15 of the Best "It's Free Real Estate!" Memes
From the classic "Tim and Eric Awesome Show, Great Job!" sketch.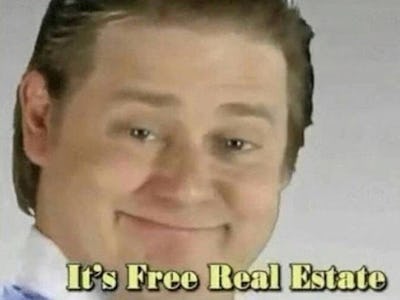 Tim & Eric/Adult Swim
Today in meme news: Tim and Eric Awesome Show, Great Job! gets the social media spoof treatment.
One of the Adult Swim show's most well-known sketches, which uses the punchline, "It's free real estate!" has become the latest darling of meme jokes. The sketch, titled "Free House For You, Jim," originally aired on March 24, 2009.
According to Know Your Meme, the sketch spoofs a commercial in which Tim and Eric attempt to give away a house "to one guy" named Jim. In the final shot, Tim whispers the ironic line, "It's free real estate!" into the camera.
While the reference has long been known as an inside joke to fans of the show, the bit took on a life of its own earlier this month. It all started when Redditor dylantus poked fun at American colonialism by posting the caption "native americans: exist american government," under the text image on /r/fakehistoryporn. So far, the post amassed more than 19,000 Reddit points, 94 percent upvotes, and 190 comments in just six days since being posted.
It has since inspired a slew of "It's free real estate!" memes, thanks to Reddit's active community. Redditor 69Spaghetti69 first followed suit by posting a World War II reference about Hitler's infamous invasion of Poland. Similarly, the meme variation received more than 27,000 points, 91 percent upvotes, and 180 comments.
Since then, the memeable punchline has since been used in hundreds of social media posts. Here are 15 of the best takes on the meme so far.
15. Survival Mode Meme
14. Love a Good Technology Meme
13. Samurai History Lesson
12. Even Vines Have Been Referenced
11. This Meme Owns Politicians
10. This Got Dark…
9. Some Got Cheeky With It
8. Others Acknowledged the Meme's Versatility
7. Ah, Romance
6. This Tweeter is Already Over It
5. Memes are Always Good for Owning Bloggers
4. This User Kept it Minimalist
3. Oppa! Real Estate Style
2. This Creator Used the Format to Plug His Work
1. And Finally: Some are Just Enjoying the Memes Rolling in
The "It's Free Real Estate!" is still building momentum on mainstream social platforms, like Twitter. But as with most other memes that originate online, Reddit users have already become obsessed with its variations.