Master AI With This Insanely Cheap Bundle
Build your own apps and neural networks, even when you start as a beginner.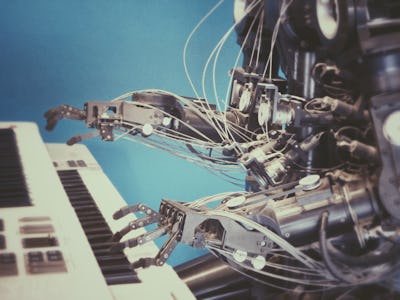 Unsplash / Franck Veschi
AI used to be the stuff of sci-fi. A projections of our greatest fears about humanity eventually being wiped out by the singularity (though that may be preferable to some at this point). While we're still a while away from the kind of AI featured in Spike Jones's Her or that desperately average Spielberg movie I've temporarily forget the name of, AI and deep learning are very much contemporary technologies with ever-expanding uses and applications, and it's in your best interest to get the basics down.
If you're looking to build incredible apps, develop detailed data models, or simply become more acquainted with a ubiquitous technology, the first place you need to go is the AI & Deep Learning Bundle. It's all you'll ever need to remove the intimidation behind scary words like "neural network" and "algorithms" and "learning" (I left school for a reason!)
The bundle contains lifetime access to 10 eBook and hours and hours of instructional content. From the very simplest lessons in learning the basics of the very concept of AI, to building your own real-world applications using advanced AI techniques and a variety of programming languages like Java and Python. You'll learn how to develop a new way to collect and understand data, master the skills of clustering algorithms, and eventually become an expert in all things artificially intelligent. For curious beginners and professional analysts alike, this is the only bundle you'll ever need to hone some seriously vital new techniques.
The entire AI & Deep Learning Bundle usually retails for more than $690. But right now, Inverse readers can take advantage of a "pay what you want" system and get the entire thing for what you decide it's worth. That's right! Just beat the average going price (currently set at just $13.59) and you'll take home the entire thing at a wild discount. You never know when something's going to come in handy.