Here's 5 Maya Angelou Works You Can Read in an Afternoon
Angelou was commemorated by Google on Wednesday.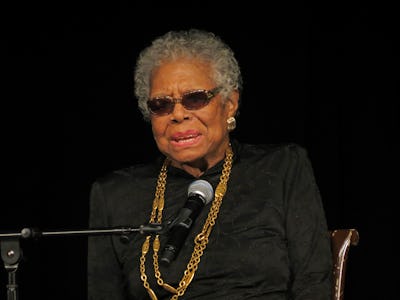 Wikimedia Commons
Google Doodle commemorated the life of author and activist Maya Angelou on what would have been her 90th birthday on Wednesday, marked with a homepage sketch that featured a recording of her 1978 poem "Still I Rise." A prolific writer, Angelou's work spanned poetry, essays and memoirs to explore the black experience, as well as her own life as a black woman.
Many hail her 1969 memoir I Know Why the Caged Bird Sings as a vital read, the first in a series of seven autobiographies. Chronicling her life from the age of three to 17 living around Arkansas and St. Louis, it focuses on the many challenges she faced in her early life — from racism and sexual assault — which caused her to stop speaking for five years. It was an instant bestseller, and remains widely regarded as one of her best.
Many of Angelou's books are easily read over the span of a few days. At 306 pages, according to readinglength.com, I Know Why the Caged Bird Sings takes the average reader around six hours to finish, assuming a speed of 250 words per minute.
Here are five other incredible books by Maya Angelou that you can read in an afternoon:
This 2009 book is a collection of essays that focuses on the daughter Angelou never had. It offers glimpses into Angelou's life while also shining a light on what it means to be a young woman, delving into topics of sex, compassion, honesty and religion. At 192 pages, it takes around three hours and 54 minutes to read.
Angelou's fifth autobiography, from 1986, covers the years she lived in Ghana, between 1962 and 1965. It tackles themes of pan-Africanism, the experience of living as an African-American in Africa, and her time as part of the "Revolutionist Returnees" community. At 224 pages, it's about a four and a half hour read.
This two-part anthology of poems published in 1973 was Angelou's first poetry collection and was nominated for a Pulitzer Prize. The first section, consisting of 20 poems, centers on themes of love. The second section of 18 poems focuses on the experience of African-Americans in the United States. At just 48 pages, this should take under an hour to read.
This 1994 collection of 24 essays focuses on spirituality, well being, empowerment of women and shaping your life. Publishers Weekly described the essays as "quietly inspirational pieces." At 141 pages, the average reader will take around two hours and 52 minutes to finish this, but each essay only takes a few minutes.
The sixth book in Angelou's autobiographical series, released in 2002, A Song Flung Up to Heaven continues from its predecessor to chronicle the three years after her return to the United States. She works with activist Malcolm X, reunites with her mother, and travels to New York to work with Martin Luther King Jr. on his Poor People's March. This is a first-hand account of a groundbreaking period in African-American history. Angelou wrote A Song Flung Up to Heaven after her famed recitation at president Bill Clinton's inauguration in 1993, which had brought a renewed attention to her first autobiography. At 224 pages, it's about a four hour and a half hour read.