Cryptocurrency Touted by Floyd Mayweather Was a Scam, Creators Charged With Fraud
Celebrity endorsements brought in $30 million in funding.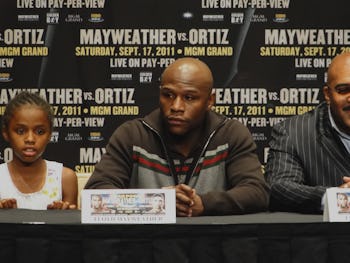 Flickr / SportsAngle.com
The U.S. Securities and Exchange Commission (SEC) charged the cofounders of Centra Tech with fraud, alleging they orchestrated a fraudulent initial coin offering (ICO) that scammed more than $32 million from investors last year.
Before startup cofounders Sohrab Sharma and Robert Farka were arrested and charged by law enforcement, they were the recipients of high-profile celebrity backing. Thanks to ICO-paid endorsements from boxer Floyd Mayweather and artist DJ Khaled, Centra Tech was able to raise over $30 million from investors in a matter of weeks. But according to the SEC complaint filed on Monday, Centra masterminded a fraudulent ICO and sold unregistered investments through a faked "CTR Token."
Sharma and Farkas allegedly claimed that funds raised in the ICO would help new financial products for investors. The complaint recounts Centra Tech offering a debit card backed by Visa and MasterCard that would allow users to instantly convert hard-to-spend cryptocurrencies into U.S. dollars. In reality, Centra had no relationships with Visa or MasterCard.
ICOs are becoming a popular target for regulatory crackdowns and are often seen as an entry point for governments to monitor cryptocurrencies that are hard to regulate. This usually means fraudulent ICO peddlers keep a low profile, but Sharma and Farkas must have missed that memo. In addition to the flashy celebrity endorsements, the SEC alleges they created fictional executives with impressive biographies and promoted false marketing materials across social media. The final red flag came when Farkas made flight reservations to leave the country. He was arrested while trying to board the plane.
The SEC filing requests that Sharma and Farkas give up the money they received and pay penalties. It also asks that they be barred from serving as officers of a public company or participating in any securities offering going forward. The U.S. Attorney's Office for the Southern District of New York announced criminal charges against Sharma and Farkas on the same day.
"As we allege, the defendants relied heavily on celebrity endorsements and social media to market their scheme," said Steve Peikin, Co-Director of the SEC's Division of Enforcement, referring to the support from Mayweather and DJ Khaled. "Endorsements and glossy marketing materials are no substitute for the SEC's registration and disclosure requirements as well as diligence by investors."