Can Michigan Upset Villanova in the NCAA Final? AI Predicts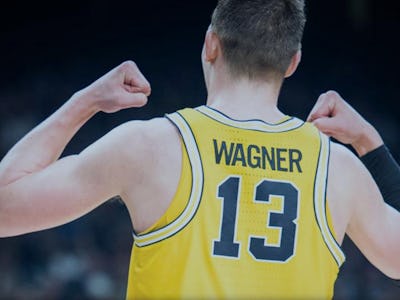 Facebook.com/MichiganBasketball
This past weekend, the University of Michigan's Moritz "Moe" Wagner became the first NCAA player since 1983 to score more than 20 points and make 15 rebounds in the Final Four, and the Wolverines are are riding a 14-game win streak — but they remain the underdogs in Monday night's championship game. Pre-tournament favorites Villanova University are a three-point-focused operation, sinking an insane 18 shots from behind the line in its Final Four game against Kansas, causing one Kansas fan to call for the abolishment of the three-pointer.
Ahead of the final, which tips off at 9:20 p.m. Eastern at the U.S. Bank Stadium in the Alamodome in San Antonio, a hive-mind of 47 basketball experts — aided by the artificial intelligence that helped smooth out their decision-making process — have picked Villanova to win the championship. They used technology developed by San Francisco-based technology firm Unanimous A.I. to come to their decision, and as the graphic below shows, the swarm is highly confident in their decision:
To predict the result of this and other games, Unanimous A.I. used what's known as swarm intelligence to forecast the game. The swarm of basketball fans worked together as a hive mind to make picks, and as you can see in the animation above, each participant controlled a little golden magnet and used it to drag the puck toward the answer they thought was the most likely outcome. As the users saw the puck move toward a particular outcome, it triggered a psychological response. They readjusted their decision-making, building toward a consensus.
The hive mind forecasts with high confidence that Villanova will come out on top this year. This decision was made using 80 percent of the swarm's brain power. While the odds are in Villanova's favor, there's still room for a Michigan upset.
Ahead of the game, Wagner praised Villanova's shooting prowess like this during a press conference Sunday: "They can all shoot. They're really, really efficient at multiple positions," he said. "Usually when you play a good team, there's usually something you can give up and can make a defensive game plan. But that's not the case here. You know what, it's not supposed to be easy. It's the national championship. So, yeah, they present a tremendous challenge."
Unanimous A.I. has made some scarily accurate predictions in the past using swarm intelligence, as our previous article explains. For instance, the swarm picked this year's Oscar winners with 94 percent accuracy. Here's Unanimous A.I. founder Louis Rosenberg explaining swarm intelligence at a recent TEDx Talk.