Disgraced 'Star Wars Episode IX' Director Returns to 'Jurassic World'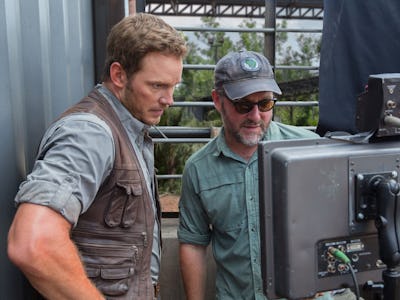 Univrsal
It's been less than a year since Colin Trevorrow had Star Wars IX directing duties ripped out of his hands, and he's already making an attempt to tackle the final chapter in another popular trilogy. Except he's replacing adventures in space with people-eating dinosaurs.
Steven Spielberg told Entertainment Weekly that Trevorrow is returning to the director's chair for the third installment in the Jurrasic World trilogy, which he will also be writing the film's script with Pacific Rim: Uprising's Emily Carmichael. Additionally, Spielberg announced that he would serve as executive producer on the project.
Trevorrow helped reboot the franchise by serving as co-writer and director of 2015's Jurassic World, a return to the land of Jurrasic Park. Starring, Chris Pratt and Bryce Dallas Howard, the new franchise found the dinosaurs living on island Isla Nublar as amusement at the "Jurassic World" theme park. Trevorrow did not direct the upcoming Jurassic World: Fallen Kingdom, but he did work on the script with Derek Connolly, so he clearly has a stronger connection to this franchise than the Force.
As for the Star Wars of it all, J.J. Abrams took over Episode IX directing duties from Trevorrow. When Trevorrow landed the directing gig in 2015 off the strength of the successful launch of the Jurassic World franchise and Lucasfilm President Kathleen Kennedy's love of his work on Safety Not Guaranteed, according to the Star Wars press release of the announcement. Due to creative differences, though, Lucasfilm parted ways with Trevorrow in September of 2017, and Abrams landed the directing gig a week later. Concidentially, Abrams directed the first film in the new Stars Wars trilogy, The Force Awakens. Since he's returning for the third, there's an interesting little parallel to the Jurassic World franchise.
While Abrams's Star Wars film will premiere in 2019, the third Jurrasic World film isn't set to be released in 2021, so the question is whether or not Trevorrow gets the job done this time. Will he stick the landing on this franchise?
The third Jurassic World film is set for a June 11, 2021 release.