'Arrow' Season Finale's Arrowverse Crossover Means It'll Be Very Personal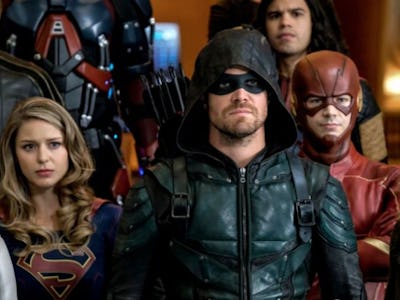 The CW
Season finales are usually when TV shows do something drastic. The villain is defeated, a twist shocks the heroes, a character makes a big return, or someone dies, take your pick. Well, we now have reason to believe that the Arrow will be quite personal, with major ramifications for because the season finale is a mini-Arrowverse crossover.
Former Arrow star Caity Lotz, who currently stars on Legends of Tomorrow, is returning to Star City for the season finale of Arrow. Lotz shared the news on Twitter with an image of her as Sara Lance with stars Stephen Amell and David Ramsey during the second season, which is when she made her debut as Sara. Outside of the annual Arrowverse crossovers, Lotz last appeared on Season 4 Episode "Lost Souls" when she joined Team Arrow to save Ray Palmer from Damien Darhk.
Sara is coming back to a very different city and there's a lot she will have to get used to. First off, there's a new Black Canary in Dinah Drake who has taken up her sister's mantle. It will be interesting to see what happens when these canaries meet. Or collide.
More importantly, there is certainly some family business to tend to for returning member of the Lance family. Black Siren is currently Captain Lance's main focus as he tries to find his Laurel within the Earth-2 villain. Odds are Sara, who has stopped herself from saving Laurel while traveling through time, will have her own feelings about this woman who is not her sister. Especially since Black Siren's latest tactic is to pretend she is the real Laurel.
The Lance family, and Arrow viewers, are in for an exciting and possibly extremely awkward season finale.
Arrow airs Thursdays at 9 p.m. Eastern on The CW.