New Tesla Solar Roof Images Appear With Gorgeous Powerwall Install
The future house is here.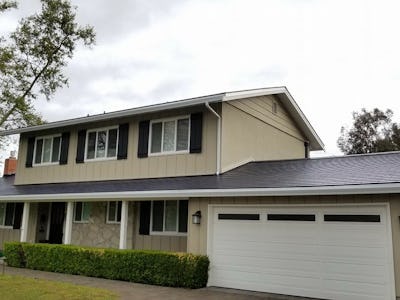 Twitter/triduchuynh
Tesla's solar roof is coming together. Just one day after Elon Musk shared images of the roof install on a house in San Jose, another installation has cropped up around 50 miles north in San Francisco. Tri Huynh, senior manager at Nvidia, shared images Thursday of his newly-installed build complete with three Powerwall batteries.
The images are one of the closest representations of Elon Musk's vision of a "house of the future," first detailed at a late 2016 show that saw a $35,000 Tesla Model 3 electric car roll out of a garage fitted with solar panels that blend into the roof, combined with a Powerwall that stores energy for a consistent supply of power. Huynh said on Twitter that the whole installation cost $100,000, and his was among the first because his roof shape made installation simple. While Huynh is still awaiting approval from the Pacific Gas and Electric Company to start the system, it may not take long to get the thumbs-up — the installation shared earlier this week received approval in days.
Tesla is selling the solar roof as a cost-effective solution over a separate roof and solar panel solution. A suggested figure of $21.85 per square foot comes from a roof of 35 percent solar tiles mixed with dummy tiles, enough to power an average home without breaking the bank. Solar tiles are priced at $42 per square foot, while non-solar costs $11, and Tesla touts energy bill savings as another reason to invest.
Huynh is still waiting on his Model 3 to finish the project and complete the house of the future. He may have to wait some time, though, as the vehicle is currently in what Musk has referred to as "production hell". The company has missed targets for ramping up, producing only 2,425 vehicles in the fourth quarter instead of the 20,000 projected for December alone. There are concerns that Tesla could run out of cash as it pushes to ramp up production.
Beyond the Model 3, Tesla is seeking to boost production of the solar roof with two new designs. Joining the textured and smooth styles on display, Tuscan and slate styles are set to start shipping at a later date. The Tuscan style is the one Musk demonstrated back in 2016, meaning a purist looking to perfectly recreate the house will have a wait on their hands.
These installations are among the first outside of Tesla employees. Musk and Jeffrey B. Straubel, the company's chief technology officer, have also used the tiles on their own homes dating back to August 2017.