Jay-Z's Roc Nation Backs Bail Reform Startup Promise: Here's How It Works
"We are increasingly alarmed by the injustice in our criminal justice system."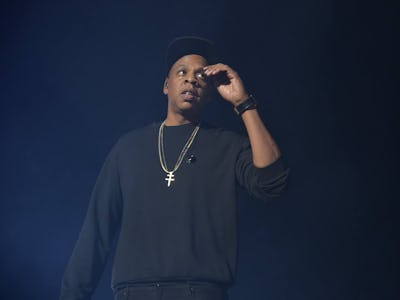 TIDAL Facebook
Jay-Z's Roc Nation and others led by First Round Capital helped raise more than $3 million to fund the new app Promise, which aims to overhaul problematic bail processes and decrease recidivism. Jay-Z described the Promise team in a statement as "building an app that can help provide 'liberty and justice for all' to millions."
Promise is led by founder and CEO Phaedra Ellis-Lamkins, a businesswoman and former manager to the late Prince. Essentially, the app works to reduce recidivism, or the tendency for an offender to commit another crime. The app is available to both to its government clients as well as "participants," who can use their phones to access a calendar of important dates and deadlines such as court appearances, drug tests, and rehabilitation. The app tracks the progress and compliance for participants using an Individualized Care Plan (ICP), which according to Promise's site includes "tools and information to help guide participants through the program."
Ellis-Lamkins told TechCrunch that while a county jail will spend $190 per day per person, Promise charges the county just $17 or less per day per person. As Ellis-Lamkins told the site, "People are going to jail because they look at a piece of paper and misread it, or are going to jail because they can't afford a class because they're instead paying child support."
"We are increasingly alarmed by the injustice in our criminal justice system," Jay-Z said in a statement. "Money, time and lives are wasted with the current policies. It's time for an innovative and progressive technology that offers sustainable solutions to tough problems."
Among the government "clients" able to access the app are counties, courts, and case managers, and according to TechCrunch, Promise has already begun onboarding a county and is in talks with others.
As Jay Z himself wrote in an op-ed last year, "We can't fix our broken criminal justice system until we take on the exploitative bail industry."