Did the Scientist Behind the Fake HIV Vaccine Really Need to Go to Jail?
Provoke the National Institutes of Health at your peril.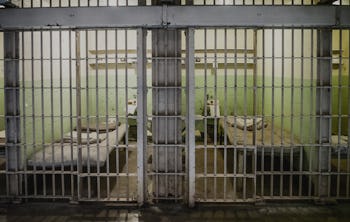 When Dong Pyou Han announced that his HIV vaccine was working in rabbits, the science world was blown away. It was huge news. Millions in research grants came flooding in.
When it was discovered that he'd been faking his results, however, he was forced out of his post at Iowa State and banned from applying for federal research grants. His career, at that point, was a shamble. But this wasn't enough for U.S. Senator Charles E. Grassley (R - Iowa), who insisted further justice be served. Yesterday, Han was ordered to pay back $7.2 million in grant money. And he was sentenced to four-and-a-half years in prison.
This seems like justice served — and then some. Many scientists over the years have been dismissed in disgrace for research fraud, but they very rarely get sent to prison. There are a few cases, like the Colombian student that faced jail time in 2014 for posting another researcher's thesis and the American nuclear scientist sent to prison for trying to sell secrets to Venezuela, but they're rare. In general, prosecution of science misconduct has been very inconsistent.
Han's case is particularly high-profile; science fraud rarely catches the attention of senators. Grassley was an especially tough enemy to make, considering this wasn't the first time he'd delved into the world of biomedical fraud. The media attention on Han's falsified results made him a big, unsympathetic target for a politician. Han was made an example of.
"It is important that we stand up not just for punishing the fraud committed against the United States government," U.S. attorney Nicholas A. Klinefeldt said in a statement, "but for the research that should be legitimately taking place on this devastating disease."
Other scientists aren't so sure such a harsh sentence was necessary, especially considering that being banned from federal funding is a veritable death sentence for a scientist's career.
As David Wright, a former director of the U.S. Office of Research Integrity, told Nature: "It's questionable how much more is to be gained by jail time."