'iZombie' Proves Blaine is Their Version of Loki
The CW has a charming troublemaker of its own.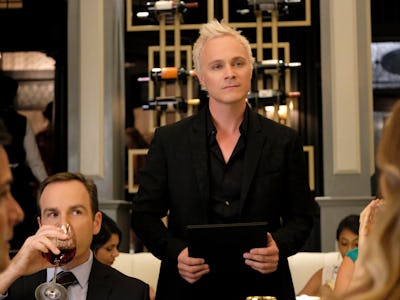 The CW
Loki, as played by Tom Hiddleston, is one of the best characters in the Marvel Cinematic Universe because he became more than a villain. The resident trickster is a versatile character; whether he's a reluctant ally or cunning villain, Loki is always fun and dynamic on screen. The same could be send or iZombie's Blaine, who began as a classic villain and has become much more than that.
On "Brainless in Seattle, Part 2," Liv is still on hopeless romantic brain while she works with Clive to track down the serial killing, human smuggler. Meanwhile, Major is still after the video of his recruit turning a young man into a zombie and Blaine is on a mission, on Chase's behest, to find the elusive human smuggler Renegade.
Blaine's search for Renegade takes a surprising trip into his own past, as well as iZombie's. When viewers met the human smuggler Renegade earlier this season, the noticed how he seems to trust Liv right away for some reason — and we now know why. Via flashback, we learn how Liv met Renegade in the morgue after her husband was killed as part of Renegade's attempt to expose zombies and a criminal who was killing homeless youth to provide brains to Seattle's growing zombie population. iZombie fans will remember it was Blaine who was committing those heinous crimes, which ultimately turned Blaine and Liv from kindred zombie spirits to adversaries. Like Liv, Blaine began the series getting used to life as a zombie. While she spent her time solving crimes as an assistant medical examiner, he decided a life of crime was for him. Blaine turned wealthy people into zombies, creating demand, and then killed homeless youth to supply them with brains. It's a big reminder that while Blaine may be useful to Chase Graves and New Seattle, he has quite the list of atrocities under his belt. Blaine may be charming, but he'll probably never be a full-on good guy.
iZombie has introduced many versions of Blaine since his murdering days. Over the course of the series, Blaine has been cured then had him turn back into a zombie and lose his memory in the process. The chapters of his life have put him at odds with Liv, forced him to ask her for help and at times work alongside her and her friends. He's a utility player and has proven himself to be as resilient as his brain-selling business.
Blaine's ability to stay interesting stems from the character's ability to keep things light and interesting. Blaine's in it for the money, so he's not an evil villain trying to take over the world and that keeps things from getting too dark. His charm disarms many of the characters and, by extension, the viewer, which is quite the selling point. While the procedural at the heart of iZombie has stayed the same, Blaine has been able to constantly evolving and it's good to keep things interesting.
Here's hoping Blaine sticks around New Seattle to cause mischief on iZombie for a long time.
iZombie airs on Mondays at 9 p.m. Eastern on The CW.