Turn Your iPhone Into a Retro Games Console With This Amazing Case
It's a phone case. It's a games console. It's 57% off.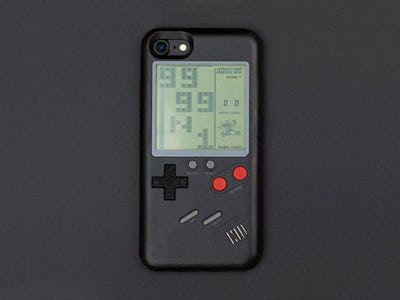 Stack Commerce
It doesn't matter how cool phones get: how advanced their processor chips, how plentiful their app store, how all-glass their encasements, nothing will come close to that first love you had for your original Game Boy. The good people at Wanle know this, and that's why they've blessed us with the Wanle Gamers Console For iPhone.
It's a Phone case, sure, but it's so much more. Designed to look and feel like the good old-fashioned portable games systems of our youths, the Gamers Console Case is a working classic console that also protects your phone. All you have to do is turn your phone over and get to playing – with real buttons!. No extra apps or weird, fiddly touchscreen controls required.
The case comes pre-installed with ten classic games like Tetris, Tank, and Snake, and its impressively slim design adds little bulk to your overall phone's profile. Even if you're not much of a gamer, the amazing and unique design of the case will catch the eye, and protect from bumps and scratches. The case is available for all current iPhone models, from the 7 to the X, and everything in between. It even has its own battery, so when your phone dies on you, at least you'll still have something to do.
The Wanle Gamers Console For iPhone is a singularly delightful invention. Usually coming in at $79.95, Inverse readers can get a seriously good deal right now, and pick it up for a limited time for just $33.99. Happy gaming!