March Madness: Will Michigan State Make the Sweet Sixteen? A.I. Predicts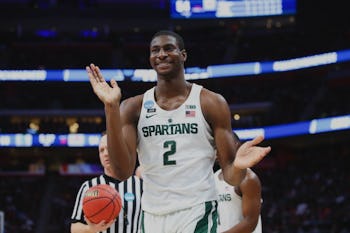 Michigan State Basketball on Facebook
The Michigan State Spartans eased past an upset-minded 14 seed Bucknell Bison squad in the first round. Can they defeat another double-digit seed from the Northeast, one with a slightly more impressive pedigree?
That team would be the 11 seed Syracuse Orange, who beat Arizona State in the play-in game and then took down a surprisingly listless TCU Horned Frogs team to get here. Now it's a match-up of two of college basketball's most successful squads, with a Sweet Sixteen bid on the line.
To predict the result of this and other games, Unanimous A.I. used what's known as swarm intelligence to forecast the bracket. About 50 college basketball fans worked together as a hive mind to make picks. As you can see in the animation below, each participant controlled a little golden magnet and used it to drag the puck toward the answer they thought was the most likely outcome. As the users saw the puck move toward a particular outcome, it triggers a psychological response. They readjust their decision-making, building toward a consensus.
Picking before the tournament, the swarm picked TCU to win instead of Syracuse. But the hive mind's confidence in Michigan State is pretty good, splitting between a high and low confidence pick before ultimately settling on the latter with 78 percent brainpower. The hive mind likes the Spartans here, though the presence of the Orange instead of the Horned Frogs could be a randomizer when the pick isn't that certain.
Read more from Inverse: The Perfect NCAA Bracket Is A.I.'s Biggest Sports Challenge Yet
Unanimous A.I. has made some scarily accurate predictions in the past using swarm intelligence, as our previous article explains. For instance, the swarm picked this year's Oscar winners with 94 percent accuracy. Here's Unanimous A.I. founder Louis Rosenberg explaining swarm intelligence at a recent TEDx Talk.
The game tips off Sunday at 2:40 p.m. on CBS.