'Instinct' is the Gay-Driven Drama Broadcast TV Desperately Needs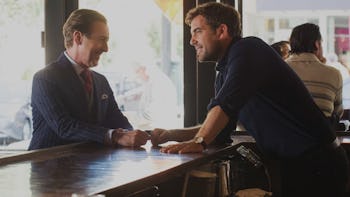 CBS
In 1989, ABC made history when it aired an episode of thirtysomething that featured two men in bed together for the first time. The actors in the scene were not allowed to touch each other while in bed, but it still represented a monumental first — and spurred advertisers to pull their commercials. Nearly 30 years later, CBS is delivering on the hopes of gay men watching that moment in 1989 by putting the first gay lead on a broadcast television drama with upcoming procedural Instinct.
Based on James Patterson's murder mystery book series Murder Games, Instinct stars Alan Cumming, who is returning to the network after playing The Good Wife fan favorite Eli Gold. Cumming plays a former CIA operative named Dr. Dylan Reinhart who spends his days writing books, teaching, and enjoying married life with his husband. When a young detective asks for his assistance to stop a serial killer who appears to be using his books as inspiration, Dr. Reinhart is pulled back into his old life as a crime solver.
What the CBS drama does is pull LGBTQ representation from the supporting characters on broadcast television to the center of the cast. From Callie Torres and Arizona Robbins on Grey's Anatomy to Bull's Chunk Palmer, LGBTQ characters have existed — but on the sidelines. "Historically, LGBTQ characters have tended to exist on the fringes of larger ensemble casts," Megan Townsend, GLAAD's Director of Entertainment Research and Analysis tells Inverse. "This has made them dispensable when a show needs to downsize, something we have seen most recently in the deaths of many queer women on TV."
Bigger Roles Mean Better Roles
Having an LGBTQ lead allows a character a lot more room for depth than they might be afforded in a secondary role. Cummings, who is also an executive producer on the series, told The Hollywood Reporter:
"Most times when we see gay characters on American TV, their gayness is the prime thing … What's refreshing about this is there's a successful relationship and they're supportive of each other. And [being gay] is also the fourth or fifth most interesting thing about this character."
In this case, Dr. Reinhart's primary goal is to close a case, but he's also a friend to other characters and has a personal life. "It is more than time that LGBTQ characters get to be at the center of a rich and nuanced story," Townsend says. "Instead of the supporting character in someone else's life. It's also important for audiences to see stories where the LGBTQ character is the audience's way into the world — the character they are meant to root for and identify with."
Conquering Broadcast TV
Although we're seeing more and more LGBTQ storytelling all the time, Instinct being on CBS is a victory for representation. "Broadcast networks have a wide reach around the country, and Instinct will be reaching audiences all over the country in a way that cable and streaming may not," Townsend explains.
CBS procedurals can have an amazing shelf life; NCIS and Criminal Minds, have both been on for over a decade. Broadcast also provides an outlet for LGBTQ-centered content to become as much the norm as a show with a straight lead. "There will also be audiences who tune in for this type of procedural — who will get to know a gay character and his husband — that may not seek out other queer inclusive content," according to Townsend.
What Instinct does is bring television closer to a reality where people from all kinds of backgrounds do most things — something that's still not a given on TV in 2018. Instinct's showrunner, Michael Raush, put it best in his guest column for The Hollywood Reporter on Wednesday: "Now here we are, in 2018, also known as the Golden Age of television. But maybe not quite pure gold if you are 'different.'"
Instinct premieres March 18 on CBS at 8 p.m. Eastern Time.