What We Know So Far About 'Ash vs Evil Dead' 
Twenty-two years later, Ash is back, baby.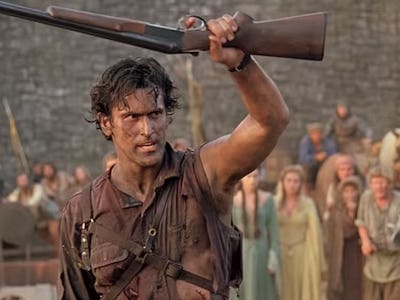 Ash vs Evil Dead promises to be the high culture event of the fall. Yet details around the upcoming Starz series have thus far been as enigmatic as the Necronomicon itself:
For those not inducted into the Deadite cause, the [Evil Dead franchise](https://en.wikipedia.org/wiki/EvilDead(franchise), which consists of three movies and one [2013 reboot](https://en.wikipedia.org/wiki/EvilDead(2013_film), follows blowhard protagonist Ash Williams as he faces off against the forces of darkness and occasionally time-travels with a chainsaw for a hand. Part horror, part schlock, part comedy, part adventure saga, it never took itself too seriously, a jewel in the golden era when horror still knew how to have fun. According to IMDB, Xena warrior princess herself is joining Ash this time around. The official synopsis:
30 years after the events of Evil Dead, Ash is a loner, living a dull existence, still not able to come to grips with the events that started at the cabin. In the event of a deadite invasion Ash must attach his chainsaw and pick up his trusty boomstick one more time, all while finally coming to terms with his past.
So, yes, we can confirm that the boomstick and the chainsaw hand will both be back. He will have trusty sidekicks in the form of two Value Stop employees, and per the actor himself, Bruce Campbell for the past 22 years, he has been up to not much. "He was…telling lies about how he lost his hand in bars late at night," Campbell told Entertainment Weekly. "That was basically his M.O. So, he's not really the guy who should be dealing with this right now. But…he is. He's our guy!"
Campbell has assured fans that the same story will be represented onscreen, largely thanks to the presence of Sam Raimi, who directed the low-to-no-budget original and then went on to steer the first Spider-Man movies. And Campbell sounds utterly geeked, maybe because he's back in the role that God put him on earth to play:
We were very determined, if we're going to go down this road again, that we're going to be in the driver's seat so we can give fans exactly what they want. Once you get too many chefs, it starts to taste different. We want it to taste exactly like the Evil Dead movies, and I think with the setup with Starz we can do exactly that. We also don't have to cut to a stupid Dodge commercial. The writers don't have to create a false cliffhangers [after every act break] because we're not going to a commercial…After all these years of all the baloney, of sequel/remake/re-imagining…it's finally back. …I've been married as long as it's been since we did the last movie. We feel we now have 23 more years of experience to hopefully provide an entertaining half hour of outrageousness.
Here's the teaser for the show, which is set to premiere on Starz at an unspecified date in the fall. We still know very little, in all, but we know a good thing when we see it in the form of a blood-saturated chainsaw.