Mondo Unleashes Comic-Con Exclusives
The Austin-based geek collectibles company continues to roll out amazing work.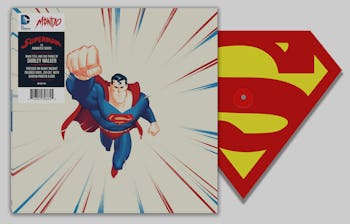 www.MondoTees.com
The folks at Mondo, everyone's favorite purveyors of manufactured scarcity, just released a sneak peek at what they have cooking for this year's Comic-Con. Let's just say if you miss the Mondo booth at the San Diego Convention Center, sucks to be you.
Here's what they're serving up to the nerd-masses.
1. Ant-Man Foil Poster
Unique artwork has been Mondo's bread and butter from the beginning, and the fact that they're busting out a Marvel poster at Comic-Con means there will probably be riots at the Mondo booth of people trying to get their hands on this thing. The poster is 24"x36" and will put you back $85. It's printed on a reflective holofoil surface and designed by artist Kevin Tong, who said, "In designing the poster, I wanted to show Ant-Man's scale, the intensity of his transformation, and really just trying to make a poster as fun and dynamic as the movie."
2. Teenage Mutant Ninja Turtles 1/6-Scale Figures
I've never been much for action figures or collectibles, but I have been a TMNT fan since forever and most fans go involuntarily wild for this stuff. Mondo created a line of 1/6 -scale figures of the turtles, inspired by the original Kevin Eastman and Peter Laird comics from the '80s (note Leonardo's red mask, though his iconic blue mask will be available in the package too). All four turtles will be available with 25 points of articulation and multiple accessories for total turtle perfection. The price is TBD. Bring pizza money.
3. First Hellboy Statue
Again, collectibles are a pretty selective group, but Mondo's Hellboy statue is dope as hell. They're bringing artist Mike Mignola's original concept drawing of the well-meaning demon to life with a detailed 12" polystone statue. You can actually pre-order this one right now at MondoTees.com for a cool $200.
4. Aliens - Original Motion Picture Soundtrack
Now we're talking. This one is bittersweet, given composer James Horner's recent tragic death, but it'll honor his amazing work in James Cameron's sci-fi classic in the best way possible. The package includes a dozen never-before-released cues from the score and five bonus tracks to feed your xenomorph-killing dreams. The cover art, designed by artist Kilian Eng, is pressed on two variants for $35 apiece: one is an alien queen blue and black swirl and the other is a yellow-and-black stripe inspired by Ripley's kickass power loader.
5. Superman: The Animated Series - Die-Cut Single
This is a worthy companion to last year's Batman: The Animated Series Die-Cut single, which was also designed by artist Justin Erickson. The Superman vinyl single features the Man of Steel's "S" emblem on Side B with four tracks of composer Shirley Walker's theme music on Side A. The package comes in classic red or Kryptonite green, $25 each. As far as geek-cred and getting your money's worth goes, this one is probably the best of the bunch. Just look at that shape, everyone.
MondoTees.com will keep cranking out more info, if this sweet piece of Internet reading didn't fill you up.