'Riverdale' Finally Gives Its Great Supporting Cast Something to Do
It seems if the character isn't Archie, Betty, Jughead, or Veronica, you are lucky to hear them speak.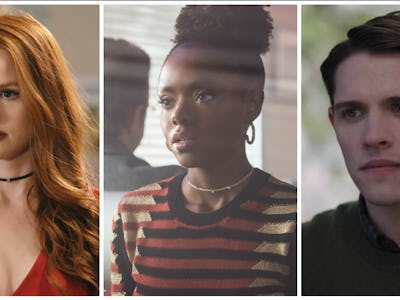 Thw CW
Josie is playing the guitar while harmonizing beautifully with the Pussycats when Archie walks into their rehearsal. Not happy about the intrusion, Josie stops the girls, tears through Archie with her words and gives a speech about how The Pussycats are too focused on telling their own story to help Archie. That moment, in the first episode of Riverdale was an amazing introduction for the classic comics character, but since then it seems like the series has forgotten about Josie. And the Pussycats. And, well, most of the show's supporting cast, for that matter.
Archie has always been the central figure of Riverdale — understandably so, since the CW series is based on Archie Comics — but at the beginning, at least, the show resembled an ensemble. Well into the second season, though, it seems if the character isn't Archie, Betty, Jughead, or Veronica, you are lucky to hear them speak.
Episode 14 of the show's sophomore season, "The Hills Have Eyes," is a great reminder of what we're missing when Riverdale only focuses on the main four characters, because while they're off on a romantic weekend getaway, several of the supporting players get long-overdue time in the spotlight. Specifically, Josie, Cheryl, and Kevin.
Even though Josie and Kevin are the children of the town's mayor and sheriff, the has struggled to use them both in Season 2. Josie used to light up the stage with The Pussycats and party it up with Kevin and Veronica. When Archie traded in music for being a vigilante early in the second season, Riverdale seemed like they had no idea what to do with Josie. As for Kevin, he was a great friend to both Betty and Veronica and oddly enough after being made a series regular for the second season it seems like we see him less than we did in Season 1.
Riverdale has been leaving two great supporting players off the field and this episode is evidence of just how good they are. Watching Josie work through the pain of her parents' divorce is compelling. The anger she feels when telling Kevin about her mother's affair with his father followed up enough regret to cause her to work hard to get his forgiveness. What's even more powerful is the maturity they show when they team up to talk through the messy situation with their parents, showing more maturity and intelligence than the central four characters usually do on any given episode.
Their absence is even more troubling when you consider that they're some of the series's diversity suffers without them. Riverdale made Josie, who is a white character in the comics, black on the show and Kevin is one of the few LGBTQ Archie Comics characters. Kevin struggling with his relationship with Moose during the episode is a prime example of the great storytelling that can be done when he's featured and not just as Veronica and Betty's friend. Representation matters, but it's all a moot point if the diverse characters never get a chance to shine.
The MVP of "The Hills Have Eyes" is definitely Cheryl Blossom who brought her classic melodrama and an incredibly touching story of her own. Cheryl, who was central to the first season's mystery plot, made herself into a fan-favorite character with cutting one-liners and ability to steal scenes, but she too had been largely left on the sidelines this season. Like Josie, Cheryl did a cruel thing (telling Jughead about Archie and Betty's kiss) after her mother ripped into her and worked through her past pain to share a secret about her past. Cheryl was in love with her childhood best friend Heather and her mother ruin their relationship. The wide range of emotion coming from Cheryl is a testament to Madelaine Petsch's talent and reason enough to warrant a more prominent role moving forward.
Let's just hope "The Hills Have Eyes" is an indication that these characters are making their way back into the story on Riverdale.
Riverdale airs on Wednesdays at 8p.m. Eastern on The CW.