8 Most Ridic Album Covers of 2015 So Far
Post-apocalyptic cartoons, smoking eye sockets, Boosie's nips, and more.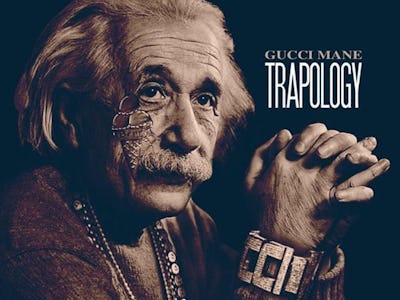 There are great album covers every year. No one will forget the polaroid on the front of Kendrick Lamar's good kid, m.A.A.d city. There are also some forgettable covers. (I can't remember any to list.) Here, we're celebrating some of the most ridiculous album covers of the year so far. Some are good, others bad, but you'll definitely remember them. These ones really pop.
Tyler, the Creator: 'Cherry Bomb'
Cherry Bomb's cover features a cartoonized (like those old Charles Schwab commercials) version of Tyler with a post-apocalyptic mutant head drawn in place of his own. The flame shirt really brings it together. Never one to stop with just enough, Tyler shared five covers for the album on his Instagram, including one with some wet blue jeans.
Fetty Wap: 'Trap Queen (Remix)'
There is literally smoke coming out of Fetty Wap's fucking eye socket.
Björk: 'Vulnicura'
It's Björk…split in half.
Future: 'Beast Mode'
For his collaborative mixtape with Zaytoven, Future decided to rip somebody's heart out. And apparently rap into a mic while holding it.
Jeff Bridges: 'Sleeping Tapes'
Jeff Bridges announced his ambient, spoken-word album, Sleeping Tapes, during a Super Bowl commercial for Squarespace. Now, I can sleep only if all these eyeballs are staring at me.
Boosie Badazz: 'Touch Down 2 Cause Hell'
Boosie's triumphant return introduces us to his crazy nipples.
Todd Terje: 'It's It's Remix Time Time'
It's a tatted up monster from Space Jam.