Capture Every Angle with the Futuristic PakPod
Introducing the best, lightest, coolest tripod in the world.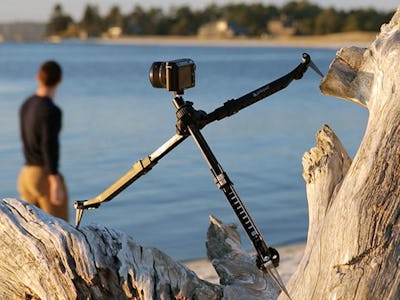 Stack Social
Whether you're the outdoorsy type or the, well, indoorsy type, a versatile tripod can make all the difference when capturing important moments. It's time to say goodbye to those days of delicately balancing your phone against a pile of books to get that good selfie angle, or setting your GoPro atop a pile of rocks.
Enter the Pakpod, a near-indestructible piece of tech that looks great, and works even better. When you're out on the trail, you don't want a tripod that's going to weigh you down. Pakpod is tiny, lightweight, waterproof, and can handle just about any camera you can deign to throw at it (do not throw your cameras at Pakpod.) Pakpod is the ultimate adventure tripod. Weighing less than a pound, Pakpod stashes in your backpack easily and sets up in just moments so you can get the perfect pic fast.
PakPod is perfect for capturing beautiful, natural vistas just as well as cool party scenes. It's also perfect for some serious, high-grade time-lapse, video, and underwater photography. It features patented stabilizing stakes for securing its legs in turf, sand, snow, you name it. It also sets up in a matter of seconds, so you'll never find yourself fumbling while that perfect shot eludes you.
The PakPod is made of special high-impact plastic and stainless steel, so it can handle even the most rugged of conditions. It normally retails for $99, which is still a pretty great deal. For a limited time, though, Inverse readers can grab one for $69.00. That's 30 percent off.