Will Frances McDormand Win the Oscar for Best Actress? A.I. Predicts
Her portrayal of Mildred Hayes riveted audiences this year.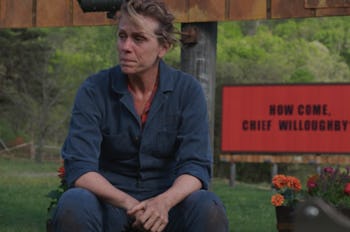 Fox Searchlight
The Academy Awards are coming up on Sunday, and while there are some contests that don't have a clear projected winner, Best Actress is probably not one of them. Riding high on her Golden Globes win, Frances McDormand is largely expected to take home the Best Actress statuette for her portrayal of Mildred Hayes in Three Billboards Outside Ebbing, Missouri. The category also includes Sally Hawkins for The Shape of Water, Margot Robbie for I, Tonya, Saoirse Ronan for Lady Bird, and Meryl Streep for The Post.
Despite some critics calling the film "empty of emotional intelligence" and thin on narrative heft, McDormand's turn as a mother looking for retribution for the unsolved rape and murder of her teenaged daughter caught fire with audiences and critics alike. Where the movie meanders in its reductive portrayal of small-town characters — and their prejudices — McDormand shines as a determined, darkly funny character who will go as far as burning down the local police station in order to get revenge on a system that has failed her.
Backing up this love for Mildred Hayes, Unanimous A.I., a San Francisco-based technology firm that uses "swarm intelligence" to make scarily accurate predictions, anticipates a big win for McDormand, too, pegging McDormand's chances as high as 80 percent.
To predict the winner for Best Actress and make other 2018 Oscar winner predictions, Unanimous A.I. uses what's known as swarm intelligence to forecast the likely winners, harnessing its prediction from a pool of around 40 die-hard movie fans. Each member of the swarm worked together as a hive mind to decide on the probability of a winner, based on what they perceived the academy was also likely to choose. Using the collective intelligence of the group, manifested through the A.I. algorithm, the predictions tend to merit eerily accurate results.
As you can see in the animation below, each participant controlled a little golden magnet and used it to drag the puck toward the answer they thought was the most likely outcome. As users see the puck move toward a particular outcome, it triggers a psychological response. They readjust their decision-making, building toward a consensus. McDormand comes out as the clear winner according to the group, briefly competing against Saoirse Ronan for the top spot.
In 2017, Unanimous A.I. got five of the Big 6 Oscar categories correct (Best Actor, Actress, Picture, Director, Supporting Actor, Supporting Actress). It missed the mark on Best Picture, as its swarm of movie experts incorrectly guessed that La La Land would win. Moonlight was the actual Oscar winner for Best Picture in 2017.
Unanimous A.I. has also predicted winners for the other categories at the upcoming Oscars ceremony. The swarm is betting that The Shape of Water will win Best Picture, while Gary Oldman will take home Best Actor, and Guillermo del Toro is pegged to receive Best Director.
Here's how to stream the Academy Awards on Sunday night at 8 p.m. Eastern time.