Will Sam Rockwell Win the Oscar for 'Three Billboards'? A.I. Predicts
Is his role as Office Jason Dixon worthy of an Oscar?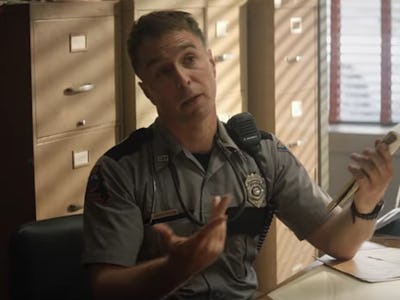 Fox Searchlight/YouTube
Sam Rockwell's performance in Three Billboards Outside Ebbing, Missouri may land the prolific character actor the Academy Award for Best Supporting Actor. His role as Officer Jason Dixon demanded that Rockwell display his full emotional range, resulting in a Golden Globe for Best Supporting Actor earlier this year.
Despite his victory, Rockwell's character is very polarizing among critics. While some have praised his portrayal of a deeply flawed, extremely racist cop as a paean to nuance, others have decried the character as an irresponsible appropriation of important social issues.
Rockwell may be rewarded for showcasing the turmoil of a life fueled by reckless vengeance on Sunday at the Academy Awards with an Oscar.
Unanimous A.I., a San Francisco-based technology firm that uses "swarm intelligence" that makes scarily accurate predictions, is almost sure Rockwell will win the 2018 Best Supporting Actor Oscar on Sunday night.
To predict the winner for Best Supporting Actor and make other 2018 Oscar winner predictions, Unanimous A.I. used what's known as swarm intelligence to forecast the likely winners, using a pool of 33 amateur movie enthusiasts. Each member of the swarm worked together as a hive mind to make picks.
As you can see in the animation below, each participant controlled a little golden magnet and used it to drag the puck toward the answer they thought was the most likely outcome. As users see the puck move toward a particular outcome, it triggers a psychological response. They readjust their decision-making, building toward a consensus. In this case, the swarm is 84 percent confident that Rockwell will be giving a thank-you speech on Sunday night.
"The goal is for each participant to bring as much info to the Swarm as they can, and combine that collective intelligence with AI algorithms, to try and turn this group of Hollywood outsiders into a "super-expert" able to compete head-to-head with the experts at places like Variety and the LA Times," says Joe Rosenbaum of Unanimous A.I.
In 2017, Unanimous A.I. got five of the the Big 6 Oscar categories correct (Best Actor, Actress, Picture, Director, Supporting Actor, Supporting Actress). It missed the mark on Best Picture, as its swarm of movie experts incorrectly guessed that La La Land would win. Moonlight was the actual Oscar winner for Best Picture in 2017.