NASA Honors Challenger, Columbia Crews With Permanent Memorial
The exhibit features personal items from each fallen crew member.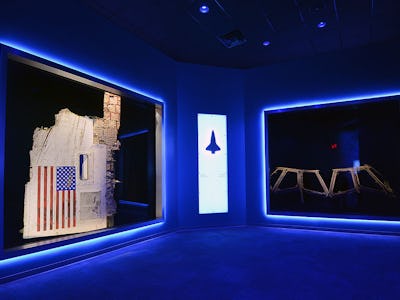 www.collectspace.com/news/news-062715a-challenger-columbia-nasa-exhibit.html
This past Saturday, NASA dedicated a new permanent exhibit called "Forever Remembered", honoring the 14 crew members who lost their lives in the Challenger and Columbia shuttle disasters in 1986 and 2003. The memorial opened at Kennedy Space Center in Florida, close to the last place the fallen touched Earth.
Challenger broke apart 73 seconds after liftoff on January 28, 1986 due to rocket boosters burning through a damaged O-ring and subsequent structural failure. Columbia burned up during the shuttle's re-entry procedure on February 1, 2003 due to a hole in the wing caused by faulty tank foam striking the outside during its initial launch.
Challenger's crew included teacher-in-space Sharon Christa McAuliffe; payload specialist Gregory Jarvis; mission specialists Judith A. Resnik, Ron McNair, and Ellison S. Onizuka; commander Francis R. (Dick) Scobee, and pilot Mike J. Smith.
Columbia's crew included commander Rick Husband; pilot William C. McCool; payload commander Michael P. Anderson; mission specialists David Brown, Kalpana Chawla, Laurel Clark and payload specialist Ilan Ramon.
In a message sent to all NASA employees, administrator Charles Bolden said, "It's now time to tell the full scope of the space shuttle's achievements, of the men and women who made the program great; and the sacrifices of those who lost their lives to push the boundaries of human achievement."
The memorial, which features recovered debris from each tragedy, also includes 14 displays that honor each crewmember lost. Relatives also donated a selection of personal items to go along with each display.