6 Books to Read Once You've Seen 'Annihilation'
Let Alex Garland's trippy horror sci-fi be your gateway into some seriously good Weird Fiction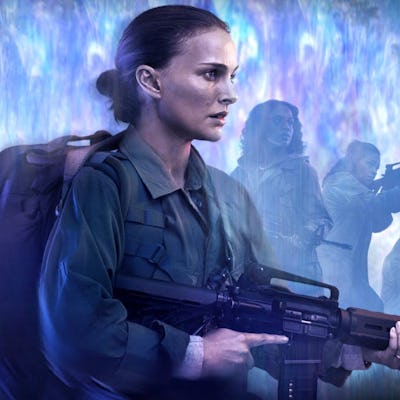 Paramount Pictures
Annihilation, the best sci-fi of 2018 Annihilation, has bewildered and impressed audiences in equal measure. Its hybrid handling of an emotional and narratively complex story isn't for everyone – its final twenty minutes being pretty much a gorgeous, wordless, multidimensional interpretive dance scene – but when it connects, it connects.
Of course, as you've probably heard, writer-director Alex Garland (Ex Machina) took some extreme liberties with the film's source material. Perhaps 20 percent of the book makes it into the movie (and that's a liberal estimate). His version also all-but guarantees we'll never see the second and third books in author Jeff VanderMeer's Southern Reach Trilogy make it to the big screen. Bright side: that only means the novels themselves will remain a unique and surprising experience, no matter how many times you watch and dissect *Annihilation.
For those who want to dig deeper, there's a whole world of, well otherworldly "Weird Fiction" out there; books that bring the uncanny to our world, and books that bring us to a different world altogether. Here are six more books to binge and unsettle you once you're all Southern Reach-ed out.
Robert Jackson Bennett has made a serious name for himself as a thoughtful and beautiful horror writer. His Divine Cities trilogy is by far his most realized, popular work to date. In its first installment, City of Stairs, we're introduced to the city of Bulikov, where Gods once reigned but have now all-but disappeared, and acts of divinity (or "miracles") are strictly outlawed. This is a beautifully-written and credible approach to some outlandish fantasy. [Amazon, $9.99]
A truly unique and seriously personal take on a high-stakes alien invasion trope, Lagoon takes us to Lagos, Nigeria, where first contact with a nearly incomprehensible entity is made, upending the lives of millions of people. Not only is this a thrilling, original take on an old trope, but Okorafor gives us the privilege of letting us access and experience a story set in one of the world's most populous, yet shamefully underrepresented cities. [Amazon, $7.99]
You might have seen the movie adaptation of Under the Skin a few years back, a deeply unsettling horror starring Scarlett Johansson as a mysterious alien being who transfixes men throughout Scotland, then does some pretty fucked-up stuff to them. Like Annihilation, the book here served just as a jumping-off point for the movie, and you really need to get acquainted with the novel for a very human story about some very alien concepts. [Amazon, $2.99]
A thrilling, fantasy-tinged murder investigation, a time-traveling killer – perhaps the most compelling in recent fiction, a mysterious, dilapidated house that demands human sacrifices. All these things feature in The Shining Girls, which still manages to land well short of ridiculous, and instead brings a new angle to a good old-fashioned murder mystery. [Amazon, $9.28]
Darnielle, author of the acclaimed Wolf in White Van, had another hit on his hands with the quiet, but strongly unnerving Universal Harvester, the story, ostensibly, of a 90's video store employee who starts discovering disturbing short films inserted into returned tapes. From there, things get dark and very weird, very fast indeed. [Amazon, $9.99]
We're big fans of Tana French, who adds elements of horror to the fringes of her detailed, painfully-researched murder mystery novels. The Likeness follows Cassie Maddox, who one day is called to a murder scene and finds the victim is her exact double. From there, she's planted undercover into the victim's old life, as if she never died, to try to uncover what, exactly happened to her uncanny doppelgänger. An almost unbearably tense, intricately-structured mystery from one of the genre's finest. [Amazon, $12.99]