The Tech in This High-Powered Bluetooth Speaker Is Brand New, but Its Look Is Classic
The Lofree Poison is from two different worlds.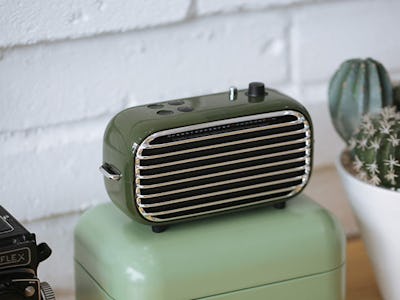 Stack Commerce
A good, reliable Bluetooth speaker is essential for any home setup. Whether you want to listen to a good podcast while you're doing the dishes, or just watch an action movie on your laptop with some half-decent sound, an affordable wireless speaker is the easiest and most versatile way to get the job done.
The Lofree Poison (what a name, too!) gets that job done, and how. It utilizes Bluetooth 4.2, the very latest and most consistent wireless sound technology, to bring a high-powered speaker experience to your home in one of the most unique designs out there. Its 1950s inspires chassis belies the seriously modern components inside, with a 6-hour battery and 20-watt amplifiers making it louder and clearer than most comparable speakers on the market.
Even for committed, aesthetically-minded technophobes, the Lofree Poison offers the best of both worlds. It even has a good old-fashioned FM radio and throwback-style tuning dial built right in, so you can fire up the squawk box just like the good old days in between blasting EDM playlists on Spotify to annoy your neighbors. This thing has the tech to match most other speakers on the market, and, better yet, wouldn't even look out of place in the most decadent Mad Men kitchen.
The Lofree Poison, which comes in four different colors to suit just about any look you want to go for, retails normally at $119, but for today, Inverse readers can get it for nearly one-third off for just $79.99.