Litecoin Price Drops in Value After LitePay Issues
Not great news for the once surging cryptocurrency.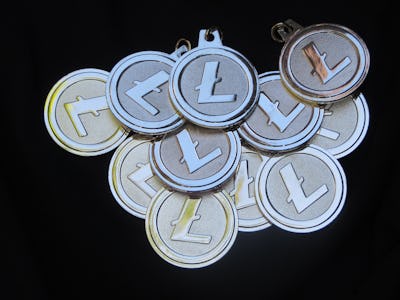 Flickr / btckeychain
Monday's confusing launch for the new payment service LitePay has meant bad news for the price of Litecoin, its chosen cryptocurrency. The popular bitcoin alternative dropped to as low as $215 on Tuesday, a seven percent dip from recent highs.
It's still not entirely clear what happened with LitePay's much-anticipated launch. The service sent out an email to subscribers revealing that issues with credit card companies would delay user registrations indefinitely, but the site was moving ahead with plans to start registering merchants who will accept LitePay once it becomes available.
It's possible that Monday's email didn't actually represent a change in plans, and that the launch was only ever intended to deal with the merchants who will need to sign up for LitePay to have any success with eventual consumers. But the site's lack of clear communication — it didn't even tweet publicly about the situation until around 2 p.m. Eastern Tuesday — exacerbated general uncertainty bout what LitePay actually means for Litecoin.
For investors, uncertainty tends to mean a drop in price, and that's been the case for most cryptocurrencies the past few weeks. Litecoin had previously reversed the sector's general downward trend, largely based on excitement for LitePay, but this at least partially botched launch was enough to trigger a drop.
As of this writing, Litecoin is at about $218, slightly up from its low point. The cryptocurrency analysts at The Merkle aren't especially optimistic about the coin's immediate-term prospects, especially since bitcoin's own recent resurgence tends to mean less investor interest in altcoins.
LitePay had previously been a positive for Litecoin, especially as it appeared to foreshadow a new era in which the cryptocurrency could be more freely used as an item of exchange instead of an investment asset.
But the general uncertainty and at best inconsistent communication from the service is now likely a liability for the coin going forward, at least until the site can report positive progress on registering either merchants or users.
If you liked this article, check out this video about Litecoin's creator, a meme-loving Internet Dad.