Super High-Tech Socks For Some Serious Running
These ridiculously comfy, hard-wearing socks are essential for any workout.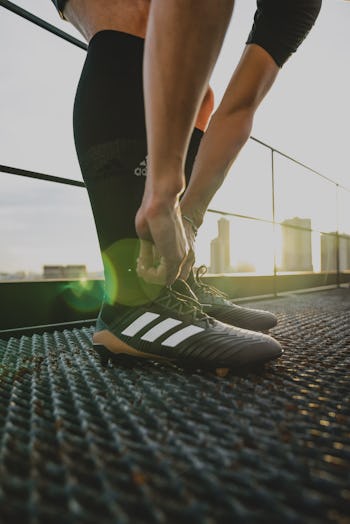 Unsplash / JC Gellidon
If you're serious about meeting those crazy New Year's goals you set yourself this year, there's no better time to actually follow through. The gyms are thinning out, and that nice pair of sneakers you've been eyeing has probably dropped a little in price.
For the people serious about getting some exercise, some good pairs of athletic socks are just as important as the shoes they're slotted into. You need some heard-wearing, heavy-duty socks that hug your feet, but don't cut off circulation, and certainly don't overheat after three minutes. I don't care how hard or fast you're running: no one likes a sweaty sock. Here are the best, most well-built athletic socks you can get on Amazon Prime right away.
Darn Tough makes some of the best socks in the game, offering lifetime warranties on all of them to back up their name. These no-show merino wool socks provide support and comfort, no matter what you do with them. [Amazon, $15.50]
Under Armour keeps churning out the hits that have made them one of the most essential sportswear brands out there today. Their Resistor 3 socks will last a long time, and if, God forbid, they don't, you'll have five other pairs to back you up.[Amazon, $21.99]
These moisture-wicking socks fit most adult shoe sizes (6-13) and provide superior comfort and fit for the soles of your feet. That's the part you run on, which is handy. [Amazon, $12.99]
For those of you who want to run comfortable with a little flair, Tdeal's offering won't just keep you energized, they'll catch the eye as you fly by, too. [Amazon, $14.99]
You just can't go wrong with Nike, the biggest name in sportswear. Their performance crew socks support and protect everything from your toes to your ankles. [Amazon, $19.40]
Adidas's compression socks feel thick, giving you a bouncier run than usual, but the material itself is wonderfully light and thin. SO comfy, they feel like they might be a part of your foot. [Amazon, $9.99]
You don't just want some running socks that last, but you want some that don't actively hurt either. Balega's "hidden comfort" promise is actually anything but hidden. [Amazon, $13]
For a more retro, soccer-enthusiast look, the Copa Zone II combines all the essential features of a good athletic sock: comfort, fit, and resilience; with a very cool, unique look. [Amazon, $11.87]
Joynée's six-pack of serious crew running socks will last a good long time, even when you inevitably lose two pairs to the laundry almost immediately. [Amazon, $20.99]
It's a hiking socks, it's a running sock, it's a football sock, it really doesn't matter: it's a no-nonsense, tough-as-nails sock that will get you where you need to go. [Amazon, $14.99]
These amazing-designed socks feature built-in arch support, something not even a lot of shoes offer. That's nuts, and on top of it all, they look and feel great, too. [Amazon, $12.99]