The Best Running Armbands For Every Type of Phone
Keep your gadgets safe and secure, no matter what you're doing.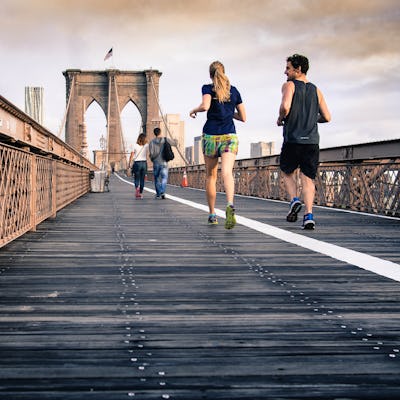 Unsplash / Curtis MacNewton
Really one of the only good things about running is getting to blast your music as loud as possible as you speed down the street. This can be hard, though, with the wrong equipment. You don't want to stop your jog every two minutes because your phone's bouncing around in your pocket, and you certainly don't want to hold your phone while you exercise. Let me tell you: That's a one-way ticket to Cracked Screen City.
Luckily, good folks around the world have engineered all manner of bands and accessories for this very problem: keeping your phone in place so you can focus on wheezing your way past that final half mile.
The TuneBand is a no-frills but exceedingly well-built running band (actually, they provide you with two sizes for any kind of fit) that you can wear on your wrist or your upper arm. [Amazon, $21.99]
The YinPinu is the SUV of phone bands, with enough space for your keys and other items, and a fully waterproof casing for your phone. There's also some nifty hi-vis detailing, which gives the whole thing a very professional feel. [Amazon, $12.69]
VUP's rotatable band can fit just about any phone, and its Inspector Gadget-like design is really neat for if you need to fire off a quick text, but don't want to halt your momentum. [Amazon, $10.99]
The MyBand is super stretchy and fits nice and firmly, giving peace of mind to even the most neurotic phone owner. There's also an extra pocket for your door key. [Amazon, $14.99]
The i2 is an attractive, old-school take on the running band, with a full protector for your phone screen, but a helpful cutout for TouchID. [Amazon, $6.99]
The name of the game here is compatibility: the Trianium promises it fits most phones – even in their cases! It comes in a bunch of different colors too. There's something for everyone. [Amazon, $8.49]
Another heavy duty, painfully affordable waterproof case, with a hole for your earphones, whichever kind they may be. Gonex have made a good name for themselves over the years as a reliable accessories company. [Amazon, $8.99]
This unisex running belt actually fits over your waist, if you'd rather not flash your phone at passersby while you work out. It has four separate, super-secure pockets, so you can bring a bunch of stuff with you without it impeding your movement. [Amazon, $22.99]