Super High-Tech Sports Outerwear for Any Workout
Let these jackets and shirts keep you warm and moving, no matter the weather.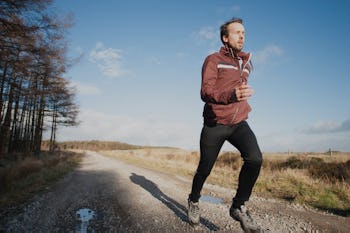 Unsplash / Jenny Hill
We've already brought you the very best, most comfortable running sneakers Amazon has to offer, and now it's time to turn our attention a little higher.
Performance shirts, jackets, and so on are tough. They need to protect you from the harsh elements, but still provide a breathable, cool fabric that won't make you feel bogged down the minute you jog three blocks. Here are the most heavy-duty, but also lightweight (we know, we know) offerings you can get delivered right now. There's no better time.
A suitably lightweight jacket that fits snugly (order one size up if you'd like a looser fit) and has plenty of storage for phones and keys. What more could you ever ask for? [Amazon, $34.99]
The Meriwool baselayer thermal not only keeps you dry and cool during even the most intense workouts, but it makes you look like a jacked superhero. [Amazon, $49.99]
A simple but attractive hoodie that won't get in the way of some serious movement. [Amazon, $27.96]
No, not that Tesla. This performance hoodie comes in all manner of colors, so you can add a bit of personal flair to when you nearly get run over by a cab running a pedestrian walkway. [Amazon, $23.98]
Adidas, the patron saint of modern running tech, comes through with a solid, classically-designed jacket. [Amazon, $35.97]
Under Armour put together some of the most reliable and well-engineered workout gear on the market. This jacket is simple, and will go with just about anything. Even those horrific bright red gym shorts you still have from college. [Amazon, $49.99]
Umbro has fallen out of favor a little as the athletics company du jour, but its throwback double-diamonds sleeve design is unmistakeable and due for a comeback. Be on the cutting edge of that. [Amazon, $40.75]
This nifty jacket both cuts the effects of a gnarly headwind on your run, and still keeps a good airflow going while you move around. God bless you, workout science. [Amazon, $34.00]
Base-layer compression thermals are where it all started for Under Armour, and if it ain't broke, don't fix it, This is a must-have basic for anyone who even thinks about signing up for a gym membership. [Amazon, $49.99]