This Week's Odds: Women's World Cup, BlackBerry's Next Move, and Selfie Sticks Bans
The future, by the numbers.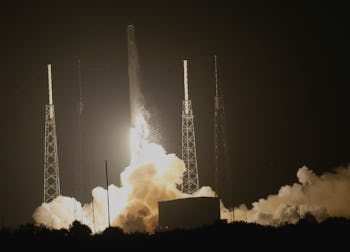 Getty Images
Summer has arrived so you're probably betting on whether or not your buddy will show up to his own wedding, but there are plenty of other ways to get some action.
1. USWNT Will Win the World Cup
The Women's World Cup doesn't seem to create as much excitement as the male counterpart here in the States, even though our women's national team is among the best in the world. Take the semi-finals matches about to go down this week, pitting Japan against England, and the USWNT against the dreaded Germany. If this were the men's side, you'd definitely swap out at least two of the teams there (the USA included), and yet here we are on the cusp of another final. You can't even say that about the men. The best thing to happen to the USWNT was the way the tournament panned out having world soccer super powers France and Germany battle on the pitch, most likely hashing out some old World War II wounds. If we pull out an upset, we'll have a shot at a World Cup title.
Odds the USWNT will win the World Cup: 3 to 1
2. Kristops Porzingis Will Be an NBA Star
The main story out of the NBA Draft last week, at least around the Big Apple, was one we've all seen before: Knicks fans going through the stages of shock, denial, then complete confusion over their first round draft pick. This year the lucky son of a bitch that will have to face a ravenous New York crowd is 19-year-old Latvian power forward, Kristaps Porzingis (say that five times fast). Despite scouts raving about his talent, he joins a long list of dubious international players who the Knicks had tapped as the key to rebuilding the team. Thanasis Antetokounmpo, Kostas Papanikolaou, Andy Rautins, Danilo Gallinari, Slavko Vraneš, Maciej Lampe, Miloš Vujanić, Nenê, and Frédéric Weis are all of the Knicks' international draft picks dating back to 1999. Do any of them ring a bell? No, we thought not. Porzingis has a tough road ahead of him, and in the grand tradition of New York he'd better put up or shut up, though it'll probably be the latter.
Odds the Knicks will win the NBA Championship this year with Kristaps Porzingis at the helm: 125 to 1
3. BlackBerry Won't Be Around For Much Longer
In the modern tech landscape with all our iPhones and Androids there doesn't seem to be much room for BlackBerry. Remember BlackBerry? It holds a paltry 0.5 percent stake in the smartphone market share, which is probably why you only remember owning one more than a few years ago if at all. In an effort to somewhat rebrand themselves to get people talking about their products again — not to mention to insert themselves into the wild and lucrative world of the heathcare industry — their next trick is to introduce an anti-bacterial phone geared towards doctors. The germ-free phones will allegedly try to rid our wellbeing warriors from the pesky routine of having to wipe down their phones on top of all the other items that need decontaminating in the work place. But is it really worth all the trouble considering only 20 to 30 percent of viruses can be transferred via glass surfaces like the faces of smartphones? BlackBerry's anti-bac phone isn't in production yet, and however much it may get consumers chatting about their brand again it doesn't seem like something that will stick in the long run.
Over/under on how long BlackBerry will still be a player in the smartphone market before folding: 5 years
4. Selfie Sticks Will Be Banned
Last Friday, the house of mouse decried from on high that all selfie sticks would be banned from their theme parks following a series of incidents that caused safety delays when people whipped out their feet-long selfie sticks to grab some sick pics of them on Disney roller coasters. People, in general, are very dumb, and people who try to take selfies on roller coasters are the dumbest of all. Selfie sticks get in the way, are by and large used by obnoxious people, and are hopefully just a passing fad. If you really want a photo of yourself or all your friends, just ask someone nearby to take your damn photo!
Unsurprisingly, Disney isn't the first company or event to ban the sticks. The Metropolitan Museum of Art in New York, the Kentucky Derby, English Premier League soccer stadiums, London's National Gallery, the Coachella music festival and the Palace of Versailles have all said no to having their pictures taken with their iPhones on long sticks you hold out in front of you. But Disney is perhaps the most influential, and the most family friendly entity to bring the selfie hammer down. Let's hope they make it easier for other places to ban them too. Odds that selfie sticks will continue to be banned at major attractions, events, and companies: 3 to 1