11 High-Tech Running Shoes on Amazon Prime
Get these sneakers from the future delivered to your door right now.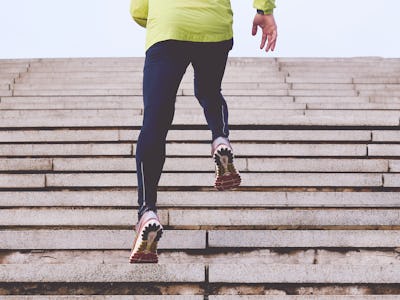 Unsplash / Clique Images
Whether you've delayed your New Year's resolution, want to take up running anyway, or just want a nice, good pair of sneakers, shoe shopping is a harsh inevitability. There's an embarrassment around it that calls back to childhood: helplessly asking the clerk to bring you out a bunch of pairs of the same shoe, struggling to get them on, walking around like a sad model, all while under the watchful gaze of everyone else in the store. It sucks.
While there's an imprecision to sneaker shopping online, the convenience and price points offered by Amazon Prime, as well as a robust return policy, makes finding the ideal pair as seamless as possible anyway. Here are 11 seriously advanced pairs you can cop right now. (NOTE: prices vary, based on Prime-available sizes.)
Quite simply, Adidas's UltraBOOST is the best sole technology in the world. It cushions, supports, and provides a serious, you guessed it, boost, during exercise. Through patented manufacturing methods (or, as I'm more inclined to believe, magic), the UltraBOOST soles last a long time, too, even with heavy use. This is the all-terrain version, which combines a lightweight upper with more hard-wearing, water-resistant material. [Amazon, $220]
New Balance kill the game when it comes to insanely comfortable, affordable running shoes. They should – they've been at it a long time. These trail running shoes won't win any beauty pageants, but that might just make you feel inclined to run a little bit faster. [Amazon, $62.42]
Nike are still the first name in beautiful, intricate, hyped-up running shoes, and for good reason. The Vapormax comes at a premium, but its space-age design and superior, super comfy build are well worth it. [Amazon, $238]
There is a small but vocal contingent that absolutely swears by the Wave Runner shoe. Its proprietary mesh upper is lightweight to the point of feeling nonexistent, while still providing great support. [Amazon, $119.95]
Another UltraBOOST entry because, you guys, you have to feel this to believe it. The laceless version of Adidas's tentpole shoe feels like wearing the world't most comfortable, sturdiest sock. [Amazon, $134.86]
A retro-as-hell design gives these New Balance sneakers some charm and flair, while still functioning as well-built sports sneaker that will help you stay on your feet all day without feeling like you want to die. [Amazon, $89.98]
Nike's Lunarepic technology is no doubt a budget option, but there's still a reason this is the most popular running company on the market. These might not feel just as great as Vapormax when you're five miles deep into a serious run, but they hold up surprisingly well in even the most trying workout conditions. [Amazon, $98.72]
A normal pair of UltraBOOSTS for the everyday user. These are as good on the running track as they are on a grocery run. [Amazon, $165]
You're not gonna get a more comfortable pair of sneakers for $65. In fact, I'd wager you're not going to get a more comfortable pair for much, much more money than that, too. [Amazon, $65]
This pitch-black version of Nike's flagship product is as low-key as you're gonna get while still working out atop literal air bubbles. Sneakers are wild. [Amazon, $264.95]
Asics puts together a good running shoe, and the Dynaflyte 2 is an improvement on the formula they've been mastering and perfecting for years now. It's pretty good-looking, too, which is saying something for a running shoe. [Amazon, $100.88]