This Secluded Bookstore Corner Could Be Your Summer Reading List
'No matter what you feel, it will be OK.'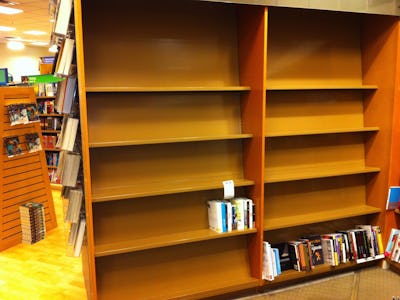 the author
Couple of years ago now, almost, I was toodling around a big ol' bookstore in Toronto, a place called Indigo, which might as well be a Barnes & Noble. On the lower of its two floors, I wandered into a back corner and saw the sight I snapped above: a mostly empty bookshelf, rare open real estate in such a large chain store. It looked like a strange sort of oversight, until I noticed that little family of books on the second shelf, with a curious note hanging above them.
As it turned out, someone had curated a private cache of books for the sort of person who might have his or her eyes low, and be wandering aimlessly around the back stacks of a bookstore. This was a quiet find for people who might in fact need a suggestion in a conspiratorial location. The note reads:
We put these books here because they have meaning. Some we read, some we haven't. They all have a depth that someone can relate to in their own life. No matter what you feel, it will be OK. Stay strong. xoxo Read on.
And a little smiley face, wearing glasses, as the signature.
I've read none of these books, and can personally offer zero insight into their qualities at large, or their relevance to you as a reader. But I do trust a staffer who finds an out-of-the-way nook in which to make recommendations to out-of-the-way people. Here's the lineup they were offering:
They are: The Program, by Suzanne Young. The Fault in Our Stars and Looking for Alaska by John Green. Crazy, by Amy Reed. The Perks of Being a Wallflower, by Stephen Chbosky. Leftovers, and Such a Pretty Girl, by Laura Wiess. Waiting, by Carol Lynch Williams. It's Kind of a Funny Story, by Ned Vizzini. Empty and Cracked, by K.M. Walton. When You Were Here, by Daisy Whitney. Street Pharm, by Allison van Diepen.
If I had to guess, I'd say someone was concerned about teenagers having access to stories about death, depression, relationships, drugs, suicide. And knew where teenagers who were concerned with those things would instinctually go.
So they're yours now, to pass around as you wish, or to track down and read. Because the section, sure enough, filled back up with whatever the home office approved. The next time I went back to that particular corner, it was full of books on film, and the makeshift teen mental health section had receded back into the store at large.