This Super Small Drone Will Change Your Selfie Game Forever
The AirSelfie does much more than just taking nice pictures of you and your friends.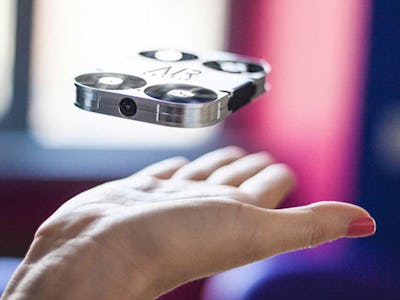 AirSelfie
2015 was a simpler time, wasn't it? Selfie Sticks were the most annoying thing anyone could possibly imagine, and Donald Trump still hadn't even hosted Saturday Night Live. We were so young. Drones aren't quite the hot-ticket item they were in 2015, when the public perception around the word was displaced from "controversial tools of unchecked warmongering" to "cute whirring sky cameras that are only good for people who want to annoy their neighbors, according to The Daily Mail", but they're still a desirable item, and the technology has evolved impressively.
Speaking to which, here's a tiny drone you can take pretty much anywhere: AirSelfie is a revolutionary pocket-sized flying camera that connects with your smartphone to let you take HD aerial photos. Its turbo fan propellers can thrust to just over ten meters in the air letting you capture wide, truly original photos and videos on your device. With an anti-vibration shock absorber, 5 MP camera, and video streaming capabilities of 1080p at 30fps, your Instagram Story game will be forever changed. Move over, portrait mode.
The AirSelfie generates its own wifi network so it stays in constant communication with your phone, it has 4GB onboard memory – more than enough for a litany of selfies and videos – and, thank god, it's super small, fitting right into the palm of your hand. It fits into its own custom-fitting phone cover and charger, meaning not only is it easy to take on the go, but it's nearly impossible to do so and forget its charger. Truly, we're living in the future.
The AirSelfie is available now, and will run Inverse readers just $299.