The Tesla Factory Is a Symphony of Hands-on Engineers and Superhero Robots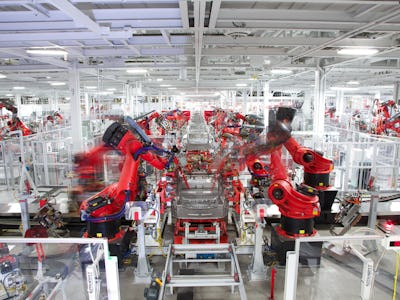 Tesla Motors
Like most larger companies, Tesla tightly controls its employees' interactions with the press. Celebrity executives like Elon Musk hold court with a selected circle of hip media outlets, but the rank-and-file employees are trained to avoid reporters like dangerous sharks.
So Business Insider scored quite a coup when it secured permission to speak with four employees who have "some of the coolest jobs at Tesla."
Staff Manufacturing Engineer Sheena Patterson is quite eloquent about her job creating the robotic equipment that makes Tesla's vehicles.
"The factory is the symphony, and the car is the song," she says. The conductors of that symphony are key employees at Tesla, which is counting on its ability to improve "the machine that builds the machine."
Patterson started her career at Ford, working on the launch of the aluminum-body F-150 pickup truck. When Ford steered her toward a desk job, she left for a hands-on position at Tesla. "I was very much young and awake and ready to do more," she told Business Insider, "tearing things apart and making them better."
Patterson started at Tesla just as it was launching Model X. She designed a robot that's a part of the Model S/X assembly line — named Gambit, after a member of the X-Men, its job is to apply adhesive to glass panels.
Patterson is now working on the new highly automated Model 3 assembly line. Her daily work routine depends on where the company is at in its production schedule. When cars aren't being mass-produced, she makes calls to suppliers and conducts design reviews. Once a vehicle is in production, however, the day starts with a walk on the assembly line. "It's been running all night," she says. "You might have been getting calls; you might not. Sometimes no news is good news."
Patterson works right in the lowest circle of "production hell," but for an engineer, it's like heaven in a way. "It's something that manufacturing goes through," she says. "Anytime you do it, it's going to be difficult. But what's really cool here is that everybody is banding around it, while at the Big Three it is manufacturing's problem. Here we say, 'No, no, no, it's everybody's problem,' because it's just our third car and it's that much more important. We're still calling up design to come to the floor."
Traditionally in the industry, vehicles are handed off from the design group to the manufacturing group, with little further interaction between the two. But at Tesla, one of the main goals is to remake the manufacturing process, so engineers like Patterson are in constant communication with designers.
Patterson sees the assembly line she helped to design as a thing of beauty. Her job right on the front lines is the envy of others in the organization. "I get a thrill going to Tesla stores," she said. "And when I tell the people there I work at Fremont, their eyes light up, because I get to work at the factory."
Article originally published on evannex.com by Matt Pressman. EVANNEX offers aftermarket accessories, parts, and gear for Tesla owners. The Florida-based company also maintains a daily blog on the latest Tesla news. Source: Business Insider.