4 Secrets from the Designer of Tesla's Award-Winning Model 3
How 2017's best-designed car came together.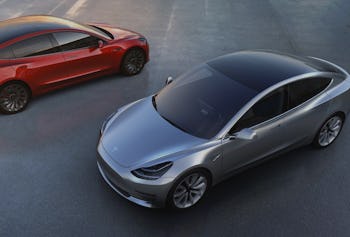 Tesla
Automobile Magazine recently awarded the Design of the Year Award to the Tesla Model 3. In praise of the car, the magazine wrote, "[It's] simple and straightforward, perfectly proportioned with minimal extraneous detailing."
"It has all been done with unmistakably good taste," the article continues. "We have the impression that the studied simplicity of both interior and exterior will let this car age extremely well, that in 10 years it will still look contemporary and beautifully understated."
Automobile's Robert Cumberford sat down with Tesla's Chief Designer, Franz von Holzhausen, to learn more about his approach to the design of Tesla's newest sedan. Von Holzhausen previously created the Pontiac Solstice and was in charge of Mazda design in California before joining Tesla.
Here are four of the Von Holzhausen's most fascinating quotes from his interview.
4. On the Original Design Brief for the Model 3
"It was essentially customer-driven. They saw the Model S as a great car, but there was a desire for something 10 to 20 percent smaller… We thought the $35,000 price point would work. We wanted five seats, more interior space, and to keep the fastback silhouette."
3. What Model 3 Shares With the Model S and Model X
"For instance, we knew that flush door handles were important, but we simplified the mechanism, so they are not as costly. We kept good aerodynamics for range as well as to make the car sporty. Not silliness, just clean and sporty."
2. On the Thinking Behind Some of Model 3's Design Choices
"To keep the fastback profile, we eliminated the liftgate and used a normal trunk lid. To keep a faster profile, we moved the structure ahead, to make sure the [head impact criteria] were all met. The big backlight is something we had experience with on the Model X windshield."
1. Why the Model 3 Doesn't Have a Front Grille
"That was a long time coming. We made the early cars less distinct from rivals but slowly came to this solution of how to keep a premium sports feel friendlier and happier than the luxury S. We changed that car, too, modifying 200 to 300 parts when the S was restyled without the painted 'shield.'"
Article originally published on evannex.com by Matt Pressman. EVANNEX offers aftermarket accessories, parts, and gear for Tesla owners. The Florida-based company also maintains a daily blog on the latest Tesla news. Source: Automobile Magazine.