'Black Panther' Album Reviews: Best Superhero Soundtrack Ever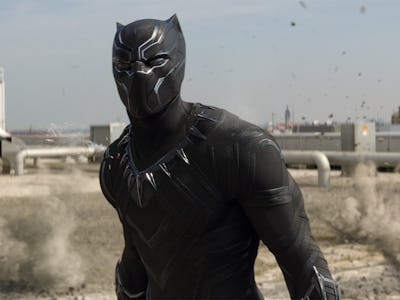 Marvel Entertainment
Fans are counting down the days until Black Panther's highly anticipated wide release this Friday and now they have some great music to tide them over. Black Panther The Album was released on Monday and the very positive reviews are following in.
The soundtrack was curated by Kendrick Lamar and Anthony "Top Dawg" Tiffith and includes both songs that are in the film and those inspired by it. While Black Panther Director Ryan Coogler initially met with Lamar for a couple of songs for the movie, the rapper clearly went on to do much more than that. "At first, he was just going to do a few songs for the film, and then he came in and watched quite a bit of the movie, and the next thing I know, they were booking a studio and they were going at it," Coogler told NPR.
Considering the scale Marvel is operating at it is important that the soundtrack talents topics facing communities of color. Esquire's Matt Miller wrote "That these topics can even be breached on a platform like this seems like progress might be possible. It's a moment of black representation that connects back to the title's origins and the soundtracks of Super Fly and Shaft. And though there's still a long way to go, the Black Panther soundtrack is an absolute milestone that will not be forgotten." Racism, the obstacles to success put in front of people of color and police brutality are among the themes addressed in the tracks on the album.
The incorporation of black artists from across the globe is another aspect of not eon the soundtrack. Vulture called the album "a musical summit between different corners of the black diaspora." In addition, Lamar's Top Dawg Entertainment label mates, including last year's breakout artist SZA, America artists from across the country including Vince Staples and Travis Scott show up on the album. Toronto-born Ethiopian singer The Weekend and British artist Jorja Smith also led their voices to the soundtrack. Black Panther is a film set in the futuristic fictional African country of Wakanda, so Lamar fittingly also sought out South African artists Babes Wodumo, Sjava, Saudi, and Yugen Blakrok.
The album's boldness, depth, and several potential hit records are also written fondly about in reviews of the album.
The success of the album is coming on the heels of a banner year for Lamar, who is coming off of award-winning and successful studio album DAMN. Earlier this year he won 5 Grammy's during a year where he was nominated for 7.
Black Panther's wide release is set for February 16, 2018.