35 Steals on Amazon Prime You Shouldn't Sleep On
Cop these essentials that people love right now.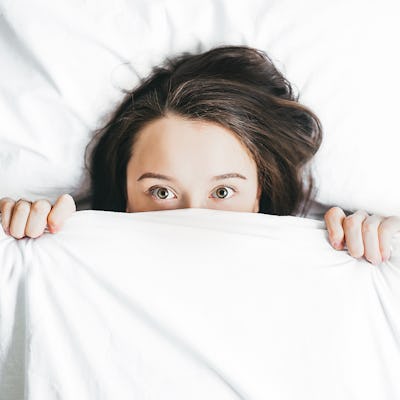 Unsplash / Alexandra Gorn
You ever just browse Amazon aimlessly out of pure consumerist boredom? I do. It's a horrifying habit I would not wish upon my worst enemy, but it's a viable alternative to fighting with people on Twitter about which movies suck or reading the news, so I'd argue it's not the most unhealthy way to spend an evening in.
If you're like me (and for that, you have my greatest sympathy), here is at least a bit of a roadmap for your next reckless Amazon spree. No filler, all well-reviewed sleeper hits from the discerning general public. We looked at new arrivals, products with average reviews over four stars, but most importantly, items people outright LOVED but didn't have the popularity deserved (yet). Great items that might be shafted in favor of things higher up Amazon's algorithm, pushed to the side by a bigger brand name. But their time has finally come.
Anker's flagship product, the portable phone charger, has never been better. This thing hops a WHOPPING 20100mAH capacity, and only runs at about twice the size of an iPhone. Truly incredible. [Amazon, $39.99]
Didn't you hear? Japanese Forged Steel is what you need from your kitchen knives. They stay sharp, they feel great to use, they'll make you want to actually hang out and cook in your kitchen all over again. [Amazon, $95.99]
Goodthreads, the Amazon-exclusive clothing shop, sell suspiciously great T-Shirts. They last, they fit well, and at $10 a pop, you can stock up to last you for a while.[Amazon, $9.99]
Take a giant movie with you wherever you go with this wildly tiny, reasonably affordable mini-projector that puts most full-sized, more expensive options to shame. [Amazon, $268]
Otterbox lead the line when it comes to making iPhone cases, and for good reason. People are buying this in droves and the reviews are excellent across-the-board. [Amazon, $16]
People absolutely can't get enough of the Pur filtration system, which places over your faucet and provides over 100 gallons of VERY filtered water. [Amazon, $26.99]
Did you know even the humble oven glove has been modernized to meet our increasingly demanding needs? The Feezzy gloves can withstand temperatures over 930 degrees and offer full, five-finger functionality. Say that ten times real fast. [Amazon, $13.99]
Anker again, this time repping some of the cheapest, best-sounding, and reliable earbuds in the game. [Amazon, $25.99]
What's better than drinking wine covertly outdoors? I'll tell ya, being irresponsible and dropping your glass again and again and not having to worry about anything smashing into a million tiny pieces. [Amazon, $39.99]
You can buy LEVI'S JEANS on Amazon! The real things! For less than $40! man, no wonder people quite like this website. [Amazon, $39.99]
An important lifehack to remember until your final breath: a rug is the greatest, easiest way to make a spartan post-grad room look remotely adult and respectable. Take this to heart. [Amazon, $31.34]
Have your morning coffee and look real smart doing it. [Amazon, $11.91]
Less than half the price of most 'Roombas', with all the bells and whistles (and a smartphone app). People love this little guy and its absence of a brand-name markup. [Amazon, $228.98]
As they say in France, this is le easiest way to make great coffee yourself. [Amazon, $21.99]
Joe Hill, the son of horror legend Stephen King, may be outgrowing his father in his later years in terms of crafting tight, terrifying stories. Strange Weather collects four disparate, disturbing, engrossing novellas. It's amazing. [Amazon, $14.99]
You ever get a Moscow Mule in a bar, fall in love with the copper mugs they're served in, and are like "man, I should steal this for my apartment?" Now you don't have to! [Amazon, $37.97]
Jeff VanderMeer's beautiful, original, terrifying sci-fi trilogy about a mysterious environmental disaster area has spawned a cult following (and a major movie). As popular as Annihilation is, its two sister follow-up novels often get short changed. As a whole, the Area X trilogy is more than the sum of its parts. Get in on the ground floor of one of the best genre stories of the decade. [Amazon, $22.73]
Time to spruce up that Boondock Saints poster you've had since 2006.[Amazon, $22.95]
The Kingsman films are rude, wild, beautiful movies that pay great respect to the James Bond movies that inspired them, while also making gleeful fun of them at every turn. [Amazon, $22.79]
Because you, and your luggage, deserve better than you cramming your toiletries into a ziploc bag every time you take a flight. [Amazon, $28.67]
I swear by this all-natural soap that not only smells great and is all-natural, but actually works. Perfect as a face and body wash. [Amazon, $9.99]
The NMD is one of Adidas' most enduring, in-demand designs, and their BOOST sole technology is, in a word, a miracle of engineering and comfort. Your feet deserve these sneakers. [Amazon, $150]
Lint rollers are inelegant and, frankly, ugly, The Evercare gets rid of dust and hair and can be used again and again. [Amazon, $6.35]
These shallow, attractive shelves can hold – and accentuate – pretty much anything you own. I use mine for books and dumb trinkets I have nowhere else to put, but you probably own nicer things than me, so they'll look even better in your house. [Amazon, $15.99]
Drown out a little bit of your awful shower scream-singing by accompanying it with the song you're actually singing to. [Amazon, $22.70]
It's winter out there! Whether you want to admit it or not, you're probably jonesing for some vitamin D right about now. These supplements provide that, alongside some essential omega oils. [Amazon, $19.33]
A more refined iPhone case option for responsible people who trust themselves not to fumble their phone onto concrete once every 3 days. [Amazon, $10.99]
Darn Tough include a lifetime warranty with their athletic socks, made from real merino wool that wicks sweat and provides insane cushioning and comfort. They're damn near close to magic. [Amazon, $15.50]
Because it's 2018 and a lamp doesn't have to be just one thing. [Amazon, $29.99]
Humidifiers make any room feel just a bit more homey. This one also doubles up as an oil diffuser, so you can make it smell homey, too. [Amazon, $23.99]
The Oasis might be Amazon's flagship e-reader, but the Voyage is still a complete triumph of design and user experience. It adjusts itself to your ambient lighting situation, and the page turn buttons on both sides mean you can hold it comfortably in one hand for your entire commute. [Amazon, $219.99]
C'mon, don't pretend like this isn't the nerdiest, coolest thing you've ever seen. [Amazon, $13.98]
Smart bulbs are all the rage, and a must-have for any home. But what if you want to just dip your toe into the smart bulb lifestyle? try out just one? The LIFX connects directly to your wifi router, so you don't need to worry about bridges or other gadgets. Just plug it in and go. [Amazon, $49.99]
There's no bigger sleeper hit than Season Two of The Leftovers, a perhaps perfect season of television that moved past – and exceeded – the divisive Season One. The best part? You don't even need to watch the first season to jump right into one of the low-key best TV shows of all time (and we mean that.) [Amazon, $26.99]