Get In On the Growing Cloud Industry with This Insanely Cheap Bundle
Become AWS-Certified, you'll be glad you did.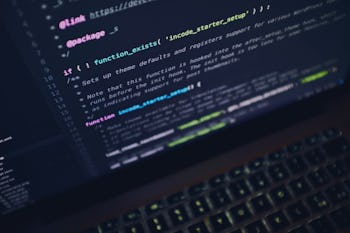 Unsplash / Luca Bravo
When anyone mentions the word "Amazon" your first thought is probably that multibillion-dollar global monopoly run by that kind-eyed bald guy that promises to deliver your items to your doorstep in just two business days. But, even with the majority of the population busy adding cool, useful shit to their carts, Amazon also offers Amazon Web Services (AWS), the world's most comprehensive cloud computing platform for business. You know how you can seamlessly stream shows off Netflix? They have AWS to thank for that.
Amazon Web Services is now a $17.5 billion business, a mere fraction of its sphere of influence, but I'll bet it's $17.5 billion dollars more than you have. Naturally, companies are vying for pros who know the ins and outs of the service. Being AWS-certified is considered an industry-recognized credential, and nearly a requirement to work in cloud computing. If you want to get in on the action and start a career in the Cloud, take the Amazon Web Services Certification Training Mega Bundle. It will only cost you $69. Nice.
This bundle contains eight certification courses and 50 hours of content. You'll start with introductory lessons, get acquainted with the basic terminologies, and try your hand at the fundamental concepts of AWS. Once you've seared the easy stuff into your brain forever, you'll drive straight into the more extensive online classes, where you'll amass skills like designing and deploying systems, moving databases, and creating custom cloud-based networks. You'll even get the opportunity to get your hands dirty (figuratively speaking) with engaging practice projects, and take simulation exams to fortify your learning.
Collectively, the courses in this learning package would set you back $1299, but Inverse readers get a 94 percent discount and get the entire set for only $69.