11 Super Last-Minute Valentine's Day Gift Ideas
You forgot, but you can get these fast.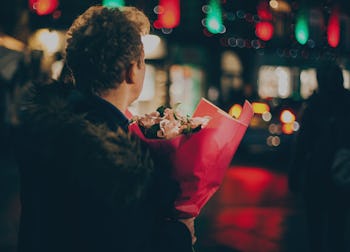 Unsplash / Clem Onojeghuo
Well, you forgot about Valentine's Day like a damn sitcom dad. All the good restaurants are booked solid and Black Panther isn't out for another two days. You've got nothing. But! It's fine. It happens, and we have your back. Nothing beats a heartfelt, thoughtful exchanging of gifts on the most romantic and terrifying day of the year, and a last-minute dash to Amazon for a decent gift is still on the cards. Here are 11 things available on Amazon RIGHT NOW that you can have rushed to your house in time for the big day, and before the big fight. Good luck and godspeed.
Nothing says "I love you" like high-fidelity, portable sound! The Bose SoundLink II is one of my favorite, most versatile speakers on the market. You can take it to the beach, use it in the shower, or it makes a great, high-quality upgrade to your laptop speakers when you settle in for a movie night. [Amazon, $129]
Going analog with your photos is back in, and what better way than the "Sprocket"? It's about the same size as your phone, and can print images directly from your device using its proprietary app. [Amazon, $149.99]
No tech or gizmos here, but paper planners are still a crazy-popular industry predicated on the idea that having a physical, concrete to-do list makes it all the more likely you'll actually do those things. [Amazon, $12.57]
Bias lights are the next big thing; or rather, they should be the big thing already. Stick 'em around the back edges of your TV and watch movies like you never have before. Bias lighting is based in real science that makes blacks look blacker, and reduces strain on your eyes. [Amazon, $13.99]
People swear by these and who am I to judge? Even if they don't magically lift your spirits or sterilize your room from all known pathogens, they look nice and give off a soft, calming glow. One hell of a nice, affordable placebo if you ask me. [Amazon, $18.99]
This thing is versatile. Plug it in, heat it up, and use it as a hand warmer, a back cushion, an all-round heating pad. You name it. [Amazon, $18.95]
A mug that holds 10 ounces of coffee and a heater that will keep it hot for hours on end. If that's not love, I don't know what is. [Amazon, $29.88]
Jackery make good portable chargers, and this super tiny offering is one of the sleekest on the entire market. 3350mAH is enough to give your phone one more full charge, and it's certainly less invasive than a bulky battery pack. [Amazon, $12.99]
A stainless steel cocktail mixer set that'll turn you into a bona fide professional mixologist in no time (or, at least, finally give you the ability to make a half-decent Old Fashioned.) [Amazon, $21.95]
One of the newest and most reliable versions of the SodaStream, the Genesis does everything you've come to expect from the number one seltzer-maker, only faster and quieter than ever before. [Amazon, $79.99]
Call me crazy, but there's something inherently romantic about buying an irresponsible amount of candy to enjoy together and ruin your diets simultaneously for weeks on end. [Amazon, $29.74]