New 'Arrow' Casting News Suggest a Major Return of a Villainous Group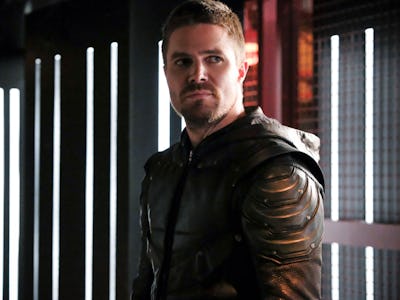 Bettina Strauss/The CW
Oliver Queen is already dealing with raising his son, the FBI coming down on him, a fractured team, being Mayor, and a team of deadly villains on Arrow this season. But, if that were not enough, a former group of adversaries could be adding themselves to his list of troubles.
The CW drama has cast Kyra Zagorsky as Athena, a former member the League of Assassins, according to TVLine. The new addition on the heels of the previously announced return of Katrina Law's Nyssa al Ghul, who last appeared in the Season 5 finale, could mean the deadly group is making a comeback.
The League of Assassins first appeared in Arrow when Sara Lance resurfaced in Starling City, sporting ties to the dangerous organization of killers. Soon Nyssa al Ghul and her father, the group's leader, Ra's al Ghul made their appearance.
Ra's al Ghul wreaked havoc on Oliver's life, nearly killing him and eventually forcing him to join the League. After Ra's died, Nyssa and Malcolm Merlyn fought for control of the group. Nyssa eventually won command of the organization and surprisingly disbanded it.
The new character, Athena, is coming to town to protect the legacy of her fallen commander Malcolm Merlyn. To that end she will view anyone associated with Malcolm as a threat, which puts many of characters of Arrow in her crosshairs. Thea, who sits out of the action these days, in particular should be concerned since she is Merlyn's biological daughter. That alone puts her at odds with Team Arrow. Oliver Queen, who was groomed to lead the group under Ra's, may also be target of Athena's.
The details of Law's upcoming return, which will be Episode 16 "The Thanatos Guild," could also support the theory of the League's return. Nyssa is returning for an episode being described as "game-changing" and "unforgettable" in which comes to town "to warn of an impending danger that will threaten everything we know and love."
Nyssa is an expert when it comes to the League and if she is coming to warn Oliver about a new serious danger, then it could be the return of the League. Odds are she is warning them about more than just Athena.
Arrow airs on Thursdays at 8 p.m. Eastern on The CW.