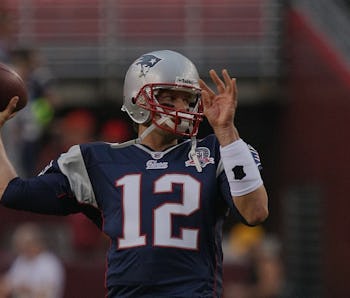 Innovation
Super Bowl 2018 Vegas Odds: AI Predicts Total Points Scored
Will this be a slugfest or a shootout?
Flickr / Keith Allison
The New England Patriots and Philadelphia Eagles face off in Super Bowl 52 on Super Bowl, but what kind game will it be? A low-scoring defensive slugfest, a high-scoring shootout, or maybe even a one-sided blowout? A hive mind of about 50 NFL fans predicts the total points scored.
The Vegas line for total points scored in this game is set at 48.5, which is about in keeping with the New England Patriots' past appearances during the Bill Belichick and Tom Brady era. They have won 20-17 against the St. Louis Rams, 32-29 against the Carolina Panthers, 24-21 against the Eagles, 28-24 against the Seattle Seahawks, and 34-28 in overtime against the Atlanta Falcons, and they have lost 17-14 and 21-17, both times to the New York Giants.
That means they and their opponents exceeded 48.5 total points in three of those games and came up short in four of them, with both of their losses much lower-scoring than a typical Patriots Super Bowl win.
As for this season, the Patriots scored 28.6 points per game and allowed 18.5, with the Eagles almost identical at 28.6 and 18.4. A 29-28 squeaker would cover, a 19-18 game wouldn't, and a 29-19 game would, hilariously, clock in at exactly 48 points. Lot of ways to go here.
As such, it's perhaps not surprising that this is how the prediction for total points shakes out.
The swarm thinks the Patriots and Eagles will combine for more than 48 points, but it's only a low confidence pick. The collective brainpower of the hive mind behind that pick was 78 percent, which isn't especially high in an exercise designed to build toward consensus. This is a bet to be extra cautious with, basically.
To predict the result of this and other games, Unanimous A.I. used what's known as swarm intelligence to forecast the week's slate. About 30 NFL fans worked together as a hive mind to make picks. As you can see in the animation below, each participant controlled a little golden magnet and used it to drag the puck toward the answer they thought was the most likely outcome. As the users saw the puck move toward a particular outcome, it triggers a psychological response. They readjust their decision-making, building toward a consensus. Here's Unanimous A.I. founder Louis Rosenberg explaining swarm intelligence at a recent TEDx Talk.
Unanimous A.I. has made some scarily accurate predictions in the past using swarm intelligence, as our previous article explains.