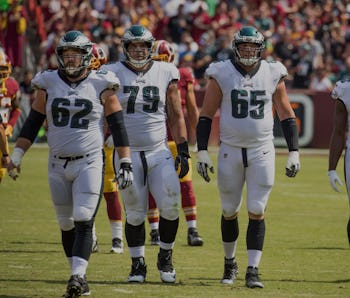 Innovation
Super Bowl 2018 Vegas Odds: AI Predicts Who Wins Against Spread
It's going to be a squeaker, says A.I.
Flickr / Keith Allison
When the New England Patriots and Philadelphia Eagles face off Sunday in Super Bowl 52 won't be worried about who wins — they will be far more concerned with how much the team wins by, and whether their bet beats the spread set by the bookmakers in Las Vegas. To that end, a hive mind of about 50 NFL fans predicts who will win against the spread.
The Vegas line for the game is New England by four points at the Westgate Casino and 4.5 points at all others. That's roughly in line with the Patriots' past Super Bowl performances, where they have won by three points on three occasions, four points another time, and six points in last year's game — and that, their biggest margin of victory, came in the first Super Bowl to go to overtime. New England likes to keep these games close, basically, even when they are on the losing end: Their two defeats to the New York Giants were by three and four points.
So with all that in mind, let's see what the hive mind, or swarm, has to say about whether New England will cover the spread.
Well, it's going to be close! The swarm likes the Patriots to win by four to six points, which is admittedly very in line with their two most recent victories over the Seattle Seahawks and Atlanta Falcons. Note though that the collective brainpower behind the pick is a bit low at 78 percent, with many seeing a closer margin of one to three points, which would fit the first three victories of the Bill Belichick and Tom Brady era. The swarm likes New England to win, but that is a tricky margin to contend with when the spread is 4.5 points. As ever, Vegas seems to know what it's doing in setting this line.
To predict this result, Unanimous A.I. used what's known as swarm intelligence to forecast the week's slate. About 30 NFL fans worked together as a hive mind to make picks. As you can see in the animation below, each participant controlled a little golden magnet and used it to drag the puck toward the answer they thought was the most likely outcome. As the users saw the puck move toward a particular outcome, it triggers a psychological response. They readjust their decision-making, building toward a consensus. Here's Unanimous A.I. founder Louis Rosenberg explaining swarm intelligence at a recent TEDx Talk.
Unanimous A.I. has made some scarily accurate predictions in the past using swarm intelligence, as our previous article explains.
The game kicks off at 6:30 p.m. Sunday on NBC.