The Best Shoe In the Universe Is Also a Reptile
The official shoe of Lizard People.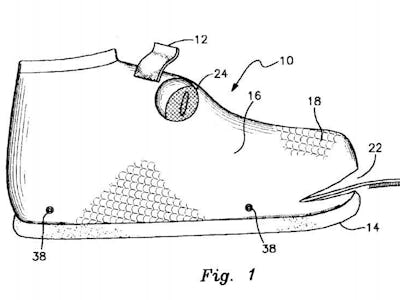 USPTO/Albert Kinan
The '90s and early '00s were a fantastic time to be a novelty shoe. There were whimsical and environmentally unfriendly light-up sneakers. There were shoes that had wheels in the heels. There were Reeboks with pumps in the front. But those pale in comparison to the greatest footwear to have birthed at the turn of the 21st century: Albert J. Kinan's 2004 Chameleon Slipper.
The slipper's inception was a book that Kinan wrote depicting:
The life and adventures of a chameleon which is a lizard reptile generally located in warm weather climates such as in the southern United States and elsewhere in the world. In keeping with the gist of my chameleon story, I have invented a slipper, preferably a children's cushioned slipper, which is designed and configured to represent the chameleon as depicted in my story.
Even Johnny Depp's Rango didn't get its own fashion line.
The shoe didn't simply look like a temperate-dwelling lizard; it pulled off the full-blown herpetological puppetry of the phalanges.
The outer surface of the slipper body is covered with a green skin simulating imbricating reptile plates having an open protruding reptile mouth embracing a retractable tongue. An inner horizontal air pad sole cushions the child's foot and controls the expansion and deflating of the reptile tongue and activates a foot switch of a battery powered electric system which controls a pair of opposing reflector eye lamps.
We don't know what "imbricate" means. (It means to overlap in an orderly manner, like shingles.) But we do know, from the patent description, that the tongue also hisses when the air pad is squished. Slip these emerald beauties on, and your feet are no longer mere appendages on which you trot. From the ankles down, you are a one-man Jim Henson creature feature.