Will the 'Solo' Trailer Hit the Super Bowl or 'Good Morning America'? Both?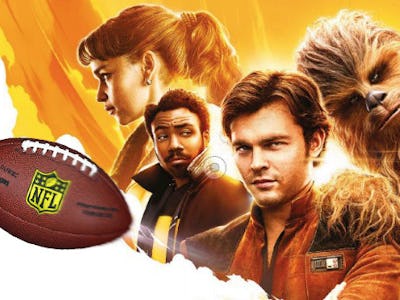 Lucasfilm
The Han Solo trailer is coming this Sunday, during the Super Bowl. Or maybe it's coming on Monday, February 6. Or maybe both! Or neither! Be careful what you read, because Disney and Lucasfilm have made no official announcement either way. Still, here's the evidence for both possible release dates for a trailer for Solo: A Star Wars Story.
On Thursday, fan-site Making Star Wars claimed that an unnamed insider source told them the following.
"When it comes to Solo: A Star Wars Story, a shorter version of the teaser will hit on the Super Bowl and a longer version of the teaser will follow shortly thereafter during the following week."
This quote cannot be confirmed in any way, but of course, it could turn out to be real. It makes some semblance of sense that Lucasfilm would debut a trailer about their most popular dude during a huge football game.
But then, there's the other idea that the "longer versions" of the teaser-trailer will appear on Good Morning America on Monday, February 5. This date surfaced as a possibility for the Solo trailer because ticket information on the Good Morning America website stated that "SOLO EXCLUSIVE TRAILER" was part of that show's taping.
But, if you go to the Good Morning America ticket site now, that part of the description of the February 5 show has now been removed.
So, what does it all mean? It seems 99 percent likely that the Solo trailer will drop on Good Morning America on Monday, only because a real place that sold real tickets to a live taping previously said that it was happening on that day. Plus, an exclusive Rogue One trailer debuted on Good Morning America in 2016, as well as footage from countless other big Disney films.
But, will the Solo trailer drop during the Super Bowl on Sunday, February 4? Until we actually see the trailer on that night, or Disney or Star Wars.com confirms that, there's really no way to be sure.
This story is developing.