Kendrick Lamar's 'Black Panther' Will Avoid the Daft Punk Tron Curse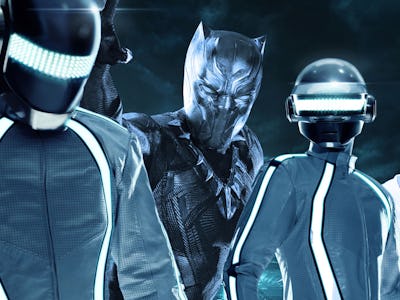 Marvel
Not only is Black Panther shaping up to be the most anticipated superhero movie of all time, it's also possibly going to be the album of the year. But how will Kendrick Lamar's Black Panther: The Album avoid the traps of other big-name music acts who have done the soundtracks for huge genre films? The answer is simple: Lamar's music is perfectly aligned with the film it will accompany. In other words, his album will avoid what happened to Daft Punk with 2010's Tron: Legacy soundtrack.
On Wednesday, Kendrick Lamar revealed the track-listing of Black Panther: The Album via Twitter. And no, there are no spoilers of the plot of the movie, unless you count just knowing that T'Challa is a badass, and also the king of Wakanda as a spoiler.
The real news here is that Kendrick Lamar's pairing with Marvel's Black Panther scans as something of a harbinger of the future. When Daft Punk did the soundtrack for Tron it made nominal sense: Daft Punk look like robots, people in Tron are living computer programs. But, with Lamar and Black Panther, it's a little deeper.
In a January 25 article published in Time titled "How Rap Became the Sound of the Mainstream," writer Raisa Bruner points out that "It's impossible to talk about rap as a genre without also talking about issues of race and class." It's why the Kendrick Lamar album for Black Panther is more meaningful than any other random pairing of a musician with a huge film. Black Panther is the first mainstream superhero film with an all-black cast, which is undoubtedly going to be a game-changer in the genre film industry. When Seal sang "Kiss From a Rose" on the Batman Forever soundtrack it was just marketing. With Lamar doing an entire album for Black Panther it's more meaningful.
Rap and Hip-Hop have become the mainstream, but it's still a genre of music that was created in a crucible to fight against marginalization. The brilliance of Kendrick Lamar doing the Black Panther soundtrack at a time in America where racial tensions are feeling very ugly is important. Not because it's a good marketing move, but because it's a declaration of victory. Right now, it feels like Black Panther has one message: here's what the future of superheroes looks like. And Lamar's album has a similar message: here's what the future sounds like.
Black Panther: The Album will be out everywhere on February 2, 2018. The film itself is out on February 16.