9 Perfect Items for a Home Workout, From Easy to Truly Insane
Because life's too short for membership fees.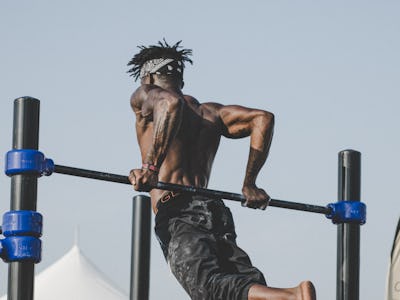 Unsplash / Kate Trysh
Staying fit and healthy can seem like a Sisyphean nightmare if you're not an A-List actor who has just been cast in a superhero movie.
For all of us non-superheroes, we have to find ways to workout that fit with our spatial and time constraints, which means a good ole fashioned At Home Workout. Here are nine pieces of workout gear to create a gym at home — from the easy and undemanding to the truly insane. No judgment.
Good and small
Foam Rollers are, as I understand it, excellent multi-use tools for working out, from aiding yoga to soothing your ailing muscles after a workout. [Amazon, $11.99]
Hand weights are a must-have for the in-house athlete. Whether you're just trying to tone up your 'ceps, or looking to become a terrifying behemoth, there are sizes and weights for just about everyone, and every use. But be sure to know your needs and limited before you pick 'em up (literally and figuratively.) [Amazon, $9.99-$39.99]
An update on a classic: The humble exercise ball. Use it for everything from balancing techniques to replacing your office chair, if you wanna be one of those people. [Amazon, $17.99]
Getting Bigger
A more, let's say involved workout demands some more heavy-duty equipment. This snazzy hand weight rack covers a wide range of weights, so you can change it up as you grow and improve. [Amazon, $39.95]
Pullups are perhaps some of the most demanding and unpleasant exercises in the world, but damned if they don't get the job done. This DIY pullup bar will save you money on a gym membership and, hey, won't draw any embarrassed glances when you only manage two of them before you collapse in a sobbing heap on the ground. Make sure your doorway's nice and sturdy, obviously. [Amazon, $29.99]
Resistance bands and their ilk are versatile, inexpensive ways to get a well-rounded workout at home. This thing is infinitely customizable and includes some nifty "anchors" so you don't bring a chunk of drywall down while you're in the zone. [Amazon, $149.95]
Hulking Monstrosities
Just in case you have the space or indeed have gone fully insane, here's a legit TREADMILL you can Amazon Prime straight to your home. Hey, you're walkin' here! Or jogging. [Amazon, $1,899.00]
The elliptical: nature's more refined, more relaxed approach to the treadmill. Good for anyone who is afraid of the aforementioned treadmill. [Amazon, $1,199.00]
You know this thing's great because it has TWO NAMES. The Pro Ab/Hyperbench still takes up some space, but. won't break the bank and will help you master some of the hardest, easiest-to-mess-up workouts out there: ab exercises. [Amazon, $120]