It's the Summer of K Camp
Get "Comfortable" with K Camp, cuz that's the name of his single, guys,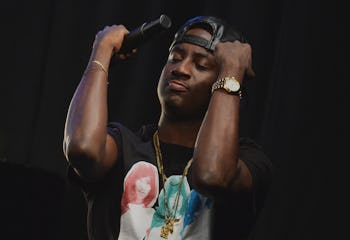 Last year, Atlanta rapper K. Camp hit the scene with a couple of out-of-nowhere singles that ended up getting serious burn locally. Though I think it's fair to call K. Camp a rapper, in terms of delivery, his closest stylistic peer might be the rapper/singer Fetty Wap, who K. Camp has worked with previously.
Though "Money Baby" and "Cut Her Off" became big songs to bounce off of, it's clear K. Camp — real name Kristopher Campbell — is moving in a different direction. Take "Comfortable," his latest single; it's a breezy track packed wall-to-wall with hooks and exudes a certain kind of effortless ease.
It's K Camp's summer. I dare you to try and take it away from him. I DARE YOU.