Mark Hamill and Rian Johnson Respond to Stormy Daniels About 'Last Jedi'
Hopefully she'll give a longer review on Kimmel.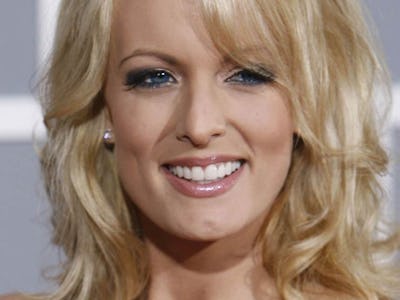 The former pornographic actress who claimed to have had an affair with President Donald Trump also doesn't like Star Wars: The Last Jedi. And now, not only has the director responded to Stormy Daniels's hatred of the latest Star Wars film but Luke Skywalker himself, Mark Hamill has weighed-in too.
On Friday, Mark Hamill took to Twitter to respond to the bizarre exchange between Stormy Daniels and Rian Johnson regarding her feelings about The Last Jedi. In December Daniels tweeted "Fuck you Rian Johnson," and declared the divisive film "the worth movie ever." And then, nearly a month later, on Thursday, Johnson responded with a starstruck emoji, seeming to imply jokingly that he was humbled that Daniels took the time to single him out for criticism. Hamill's Friday comments were simply, "another satisfied customer." It's a little confusing to figure out who is trolling who here, but it's relevant to point out that Daniels's one-line review of The Last Jedi was on Twitter several weeks before there was renewed media interest in her 2011 interview in which she spoke about having sex with Donald Trump.
But why didn't Stormy Daniels like The Last Jedi? On January 31, she is set to appear Jimmy Kimmel Live! just after President Trump delivers the State of the Union address. Presumably, they'll talk about her history with the President, but hopefully Kimmel can slip in a few questions about Star Wars, too.
Since the film's release, Rian Johnson has been actively engaging with his critics, and even directly responding to a few alleged plot holes in the film. His starstruck emoji appears to be his first response that did not include any words.