The Best Bluetooth Over-Ear Headphones Under $100
Keep your ears cozy and your music LOUD.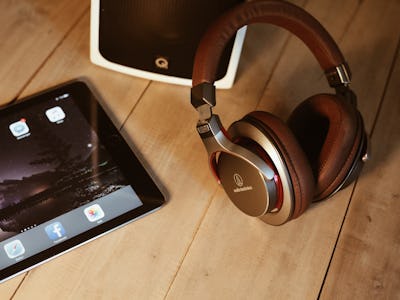 Unsplash / Alphacolor 13
A good pair of headphones is pretty much essential, from chilling at home to tuning out the drudgery of your office for hours on end.
Here is a small list of qualities that make a good pair of headphones: big, comfy, nice to look at, wireless. Wouldn't you know it, all of our picks for the very best wireless headphones Amazon has to offer include these features, plus a few extras, too.
The Mpow is a solid, very affordable option for anyone looking for basic good-quality headphones. These have a decent built-in mic for making calls, plus plenty of color options to boot. [Amazon, $36.99]
The New Bee headphones include "Active Noise-Canceling", meaning they have a built-in function that filters out basic loud noises (by up to 85 percent!) so you can focus fully on your music. [Amazon, $79.88]
The Avantree headphones claim 40 hours of continuous playtime, which is a lot of music or your favorite boring podcasts or whatever. Moreover, it comes equipped with a "wired mode" so even when you (inexplicably) run out of juice, they can keep going. [Amazon, $44.99]
Fully charge these bad boys in just two hours and get nearly three months of standby time. There are built-in volume controls and track selection on the headphones themselves, too. [Amazon, $39.99]
Some heavy-duty headphones that still fold up real nice, so you can take them just about anywhere. [Amazon, $37.99]
The most lightweight pair on this list still have plenty of battery and sound quality, and come in some swanky colorways as well. [Amazon, $29.99]
The Ucio "headset" — which, far as I can tell, is just a fancy word for "headphones" — comes with something called "memory protein" — which, far as I can tell, is a fancy word for "memory foam" — that'll keep them comfy all day long. [Amazon, $16.99]