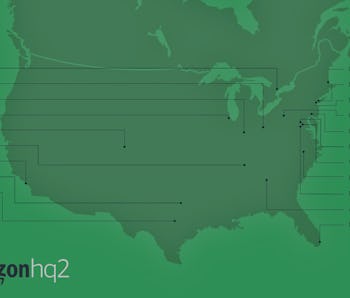 Culture
Amazon Announces 20 Finalist Cities for HQ2: What's Next
The economic future of one of these cities will be set this year.
Amazon
Of the 238 communities in North America that submitted applications to Amazon to host its "HQ2" — which will be its headquarters beyond Amazon's Seattle home base — twenty cities have made it to the final round. The finalist cities, all in the United States save for Toronto, are looking to win a competition that promises high-paying jobs, an indirect economic boon for the entire city, and a certain amount of civic pride for the winner.
Here are the twenty finalists:
Atlanta, Georgia
Austin, Texas
Boston, Massachusetts
Chicago, Illinois
Columbus, Ohio
Dallas, Texas
Denver, Colorado
Indianapolis, Indiana
Los Angeles, California
Miami, Florida
Montgomery County, Maryland
Nashville, Tennessee
Newark, New Jersey
New York City, New York
Northern Virginia, Virginia
Philadelphia, Pennsylvania
Pittsburgh, Pennsylvania
Raleigh, North Carolina
Toronto, Ontario, Canada
Washington D.C.
"Getting from 238 to 20 was very tough — all the proposals showed tremendous enthusiasm and creativity," said Holly Sullivan, Amazon Public Policy, in a press release.
What's Next?
Amazon took care in its announcement to repeat that the new corporate office will be "a complete headquarters for Amazon, not a satellite office." To realize the construction of a facility that serves a company as large as Amazon, it "will work with each of the candidate locations to dive deeper into their proposals, request additional information, and evaluate the feasibility of a future partnership that can accommodate the company's hiring plans as well as benefit its employees and the local community."
The company announced it would make a decision on the city this year.
A Varied Field
Cities as large as New York are in the running. Alicia Glen, the city's deputy mayor for housing and economic development, touted its chances in September — but the headquarter's location, in a city where real-estate is coveted, hasn't been floated.
Cites as small in size as Washington, D.C. — population, 681,170 — were also included in the field.
A lot of politicians are publicly vying for the lucrative deal. As economic wins go, landing Amazon in your town makes clearer the path to reelection clearer for any leader.
On Thursday morning, Miami Mayor Francis Suarez touted his city's inclusion in the final round and took a moment to further campaign for Miami like so: "We are very excited that [the city of Miami] made it to the list of cities being considered for Amazon's HQ2! Miami's business-friendly environment and our highly-skilled, multilingual workers are ready for Amazon HQ2."
Amazon's own investment in a city is considerable, if you look at a six-year period in Seattle. Between 2010 and 2016, the company says it added $38 billion to the city's economy, offering this stat: "Every dollar invested by Amazon in Seattle generated an additional $.140 for the city's economy overall." It built 33 buildings in that period, and employed 40,000 people. If HQ2 is truly going to be a dual headquarters in terms of scope of operations, Seattle's success story could be shared by hard-luck cities like Newark, or ambitious Midwestern communities like Indianapolis or Columbus.
Many jobs at HQ2 would represent a far cry from the the sort of blue collar jobs more often announced by Amazon, like those at its 140 fulfillment centers, where workers pack up boxes in the warehouse-like facilities before they are shipped out.
"I think it's important to focus on the fact that this is a headquarters," Glen told WNYC's Brian Lehrer in that September interview.
Glen said that a new distribution center in Staten Island has "a certain kind of job there" but the jobs expected by the New York City leaders for HQ2 will be higher-paying and more skilled, based on Amazon's announcement in September that it would add 2,000 jobs to its Hudson Yards office.
"We expect those jobs to be largely in engineering, software development, marketing, production, etc.," Glen told the radio show host. "Our expectant, based on what we've seen to date and where those jobs are being paid, to be north of $100,000 jobs."