Your Next and Best Addictive Crime Series Isn't a TV Show or a Podcast
Serial Box's 'False Idols' is poised to scratch your 'Mindhunter'itch.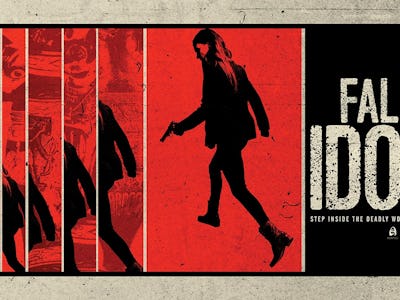 Serial Box
For fans of crime stories that mix in an ample amount of FBI realness, it's hard to know where to turn after you've finished binging Mindhunter on Netflix and eagerly await season 2. Luckily, your next crime obsession isn't a TV show or podcast and it's actually coming this month. It just requires some binge-reading instead of binge-watching.
On January 31, the serial story platform Serial Box will release the series False Idols, a crime-thriller set in the art world of Cario. Created in conjunction with Adaptive Studios, the Serial Box tells Inverse that the series" was written in a TV-like writer's room." The series writers include Lisa Klink, Patrick Lohier, and Diana Renn. But perhaps the most interesting aspect is the fact that False Idols consulted Robert Wittman, founder of the FBI's art-crime division. To be clear, Wittman didn't just work in art-crime, he invented the FBI's approach to it. Meaning, any of the art-crime will be as close to reality as possible.
Here's the synopsis of False Idols from Serial Box.
FBI Linguist Layla el-Deeb is deep undercover posing as an heiress in the Middle East. She must infiltrate the highest echelons of society in order to trace priceless relics from their millionaire owners back to illegal digs and the terrorist groups profiting from their sale.But Layla's troubled past and growing feelings for an art dealer's son begin to complicate her judgment, and when she uncovers a terrorist plot that threatens American and Egyptian lives she must decide where her loyalties truly lie.
Since launching in 2015, Serial Box has taken an innovative approach to distributing short fiction. Instead of looking at stories like traditional books, they approach each serial as a three-month "season." The episodes are released weekly in both ebook and audiobook format. So, for you crime podcast lovers, this is the next best thing to a new Serial.
But, Serial Box doesn't eschew traditional book publishing either. Though ebooks sales rose significantly from 2010-2015, the format never came close to eclipsing good old-fashion printed books. In fact, in 2017 ebook sales fell about 20 percent from the previous year. And so, False Idols will be a print book, too, available to traditional booksellers when the new "season" ends on April 3.
As any student of literary history knows if it weren't for the serialization of Charles Dickens masterpieces like Oliver Twist in magazines of the 19th century, we probably wouldn't have arrived at what we think of as "episodes" today. And now, with Serial Box and False Idols, some of that old-school mojo has returned.
False Idols launches its first episode in the Serial Box app and everywhere that ebooks and audiobooks are sold.